This carbonated beverage filling machine is a fully automatic high-precision filling machine, washing + filling + capping, suitable for the filling of juice, soft drinks, beer and other beverages.
Beverage Filling Machine Composition:
Washing Machine:
This machine is a rotary bottle washer, it is made of stainless steel water pump, high-pressure nozzle, electrical box, and high-pressure recoil spray washing. The bottle enters the equipment by the bottle separating star wheel, and the bottle mouth is clamped by the clamp and the turning mechanism to turn the bottle mouth downwards. After rinsing with sterile water, it is drained, and it is automatically turned over until the mouth of the bottle is facing upwards, and is conveyed to the carbonated beverage filling machine through the star wheel of the bottle.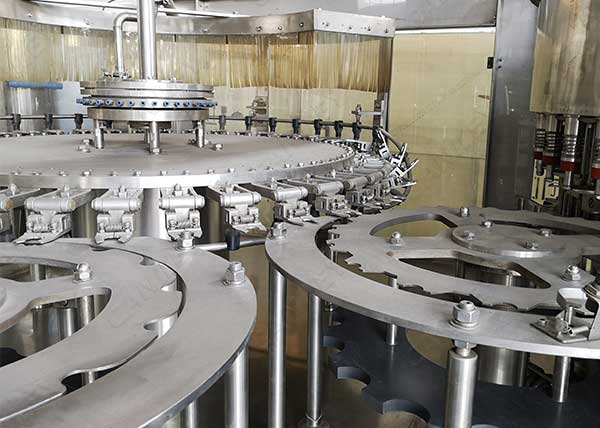 Beverage Filling Machine:
The part in contact with the material is made of SUS304. The filling method is gravity filling, the filling valve structure is reasonably designed, and the filling volume is accurate. The carbonated beverage filling machine uses a frequency converter to control the speed of the main motor, and adopts stepless frequency conversion speed regulation, which has high efficiency, low noise and long life.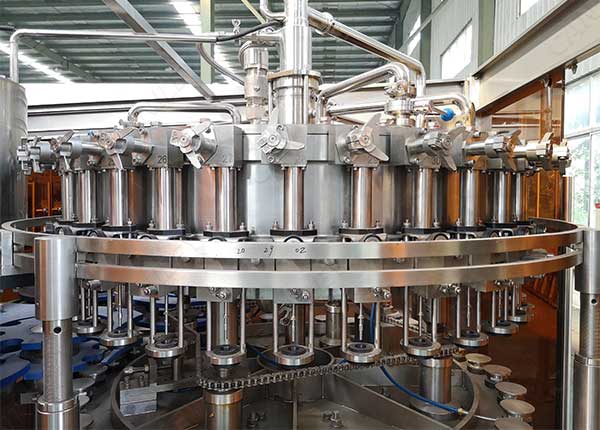 Capping Machine:
In the capping part, the cap is screwed onto the filled bottle and sent to the next process by the conveyor chain. The capping machine has a great influence on the reliability of the equipment operation and the qualified rate of the product. It is equipped with a bottle detection switch to ensure that the cap is stopped when there is no bottle, and the loss of the cap is reduced.
As a beverage filling machine manufacturer, we can adjust the composition of the filling machine and the filling method according to the nature of the customer's filling material to achieve a better filling effect.
| | |
| --- | --- |
| Model | CK-GZ18/24/32TS |
| Filling Bottle | PET bottle,glass bottle |
| Measuring range | 350-2680ML |
| Bottle Size | ∅60-∅112mm,height180-330mm |
| Packing Speed | 5000-18000bottle/h |
| Filling valve number | 18-32 |
| Voltage | 380VAC/50HZ |
| Power | 2.5-7.5KW |
| Dimensions | 3400L×3000W×2700H |
| Weight | 4000KG-9000KG |
| Precision | ≤±1% |