The juice filling machine can be used for all kinds of juice, such as organic fruit juices and concentrates, or those with pulp etc. You can bottle them all with our filling line.
Juice Filling Process:
Filling– capping–labeling–cartoning/srhink wrap
Juice Filling and Sealing Machine Composition:
Filling system: Combined with hydraulic, filling valve, controlling ring, and elevator-cylinder.
Capping system: Combined with capper, cap sorter and cap falling track.
Driving system: Combined with main motor and gears.
Bottle transmitting system: Combined with air conveyor, steel starwheels and neck supporting carrier plates.
Electrical controlling system: this part is frequency inverted, PLC controlled and touch screen operated.
Juice Bottle Filling Machine Features:
The stainless steel frame is selected, which is strong and durable and anti-corrosion.
The discharge nozzle adopts anti-drip design, high filling precision and accurate measurement.
When filling, the filling nozzleis slowly lifted up from the bottom, which effectively avoids foam caused by juiceimpact and prevents juice overflow.
The juice filling machineusesPLC system control, the filling process is stable and reliable, with emergency stop protection device.
PLC intelligent control of the filling volume, precise and stable control, convenient and quick adjustment.
The filling range is wide, the filling volume can be adjusted within a certain range, and it can be customized if it exceeds the filling range.
The juice bottle fillingand sealingmachine adopts electric and gas phase coordinated control to automatically control operation, which improves the stability of machine operation.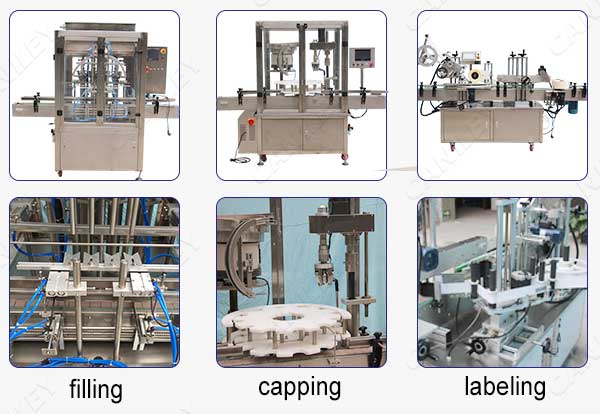 For Customize Juice Filling Line:
CANKEY has customized many filling solutions for beverage factory, from bottle cleaning to liquid filling to capping machines, we supply everything you need to complete an efficient packaging line. If you need this service, please confirm following question:
What do you want to pack?
What is your requirement about the packing speed?
How many ml do you want to fill in each bottle?
Juice Filling Machine Specification:
| | |
| --- | --- |
| Model | CK-GT4T-4G |
| Voltage | 220V  50/60Hz |
| Air Pressure | 0.5-0.7Mpa |
| SS Material | SUS304 |
| Pistion Material | PTFE |
| Main Cylinder | SMC(Japan) |
| PLC&Screen | Delta |
| Filling Volume Range | 100-1000ml |
| Filling Heads | 4 |
| Filling Speed | 16-20 Bottles/Min |
| Machine Size (L*W* H) |  2000*1050*1900 mm |
| Weight | 350Kg |