Industrial macaroni packing machine has weighing, filling, and sealing functions. The vibrator used in the weighing system of the packaging machine can automatically adjust the vibration amount according to different target weight values so that the feeding is more uniform and the combined degree is higher. High-precision, the high-standard dedicated sensor with higher precision and simple operation.
Macaroni Packing Machine Application:
The machine has a wide range of packaging, mainly used for packaging granular materials. Such as nuts, dried fruit and other snack foods. Seeds, capsules, feed, fertilizers and other products. Widely used in chemical, food, medicine, agricultural and sideline products and other industries.
Macaroni Packaging Machine Working Principle:
Often using different scales to measure the exact weight of the macaroni. After the macaroni is fed into the top of the multi-head weigher, the dispersion system in the scale starts to work. The system will distribute the macaroni, with the help of linear feeder plates, different linear feeders will deliver some of the macaroni into the feed hopper. For example, if you are using a 10 head weigher, you will typically have 10 linear feeders feeding the macaroni to 10 feed hoppers. After the product is transferred to the hopper, the load cell will start to calculate the weight of the product in the weighing hopper. The processor will calculate the best combination of available weights required. To achieve the desired target weight. Then it is transported to the vertical packing machine to complete the packaging process. It works completely different from the long pasta packaging machine.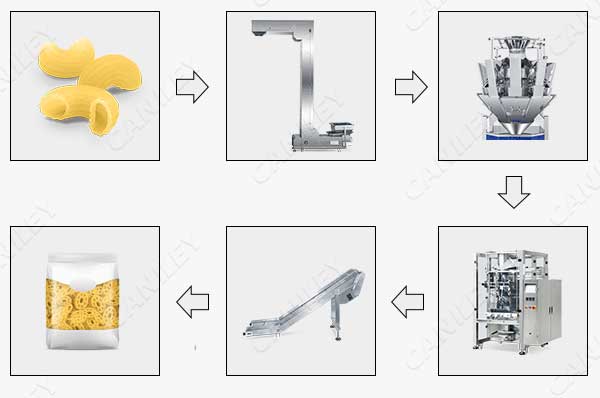 Macaroni Packing Machine Advantages:
A new type of double-parallel linear vibrator.
Weighing material detection, precise control of feeding time.
Special V-line vibration plate for small weight materials.
Side driven aluminum box, accurate sensor reading.
Automatic shutdown without material, making weighing more stable.
You can adjust the amplitude of each linear scale during operation to make the feeding more uniform.
The machine can store 100 sets of parameter settings to realize multi-directional learning and use.
The macaroni packing machine can be configured with a recipe mixing system, and a variety of product mixing solutions are available for macaroni packaging applications with multiple ingredients. The system combines weighing, mixing and other functions to achieve better packaging results.