The drip coffee bag packaging machine can complete the inner and outer bag forming at one time, avoiding the contact between people and materials. The inner bag is special filter paper for hanging ear drip coffee bag, and the size can be adjusted according to different needs of users.
The drip coffee packaging machine can automatically complete the process of coffee measurement, filling and blanking, inner bag making, sealing and slitting, inner bag filling into outer bag, outer bag making, sealing and cutting, production date printing, etc.
Scope of Application for Drip Coffee Packaging Machine:
This drip coffee bag packaging machine is suitable for disposable packaging of inner and outer bags of tea, herb tea, health tea, coffee and other small particles.
Drip Coffee Bag Packaging Machine Features:
High-sensitivity full-touch display screen, microcomputer controller to control the operation of the whole machine, Chinese/English display interface, parameter adjustment is convenient and fast.
Using PID independent temperature adjustment controller, the temperature control is more accurate, the sealing quality is good, and it can be applied to a variety of packaging materials.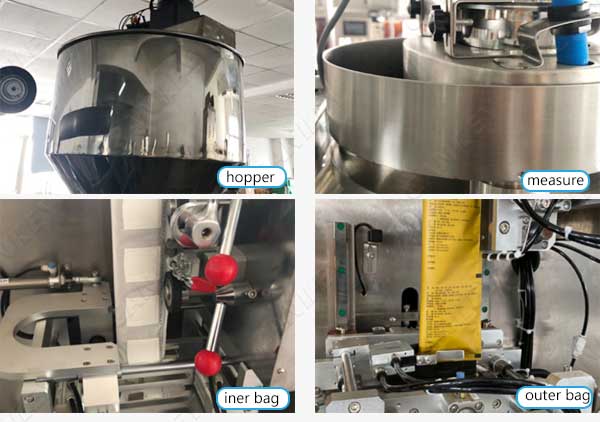 The length of the outer bag can be adjusted arbitrarily and can be set on the display. If the width of the inner bag or the outer bag changes, the bag-making device needs to be changed, and if the length of the inner bag changes, the bag gear must be replaced.
The parts that come into contact with coffee are all made of SU304 stainless steel material, which meets the requirements of QS and GMP hygiene regulations.
This drip coffee bag packaging machine can use additional devices to complete flat cut, date printing, easy tearing, vibration, stirring, label positioning and other functions.
Model
CK-188
Sealing Type
Three Sides Seal
Packing Range
1-15g/bag
Inner Bag Size
L: 50-75mm; W: 50-75mm (Special size can customize)
Outer Bag Size
L: 85-120mm; W: 75-95mm (Special size can customize)
Label Size
L*W: 25*25 (Special size can customize)
Voltage
220V, 50Hz, Single phase
Total Power
3.7Kw
Heating Device
Up vertical sealing heating tube(inner) 110V 350W 2pcs;

Up cross sealing heating tube(inner) 110V 350W 2pcs;

Label heating tube: 110V 100W, 2pcs;

Down vertical sealing heating tube(outer) 110V 350W 2pcs;

Down cross sealing heating tube(outer) 110V 350w 2pcs.

Weight
650KG
Dimension
1050*700*1300(L*W*H mm)