The jars labeling machine is designed to achieve rational production, The labeling process is automated, simple to operate, fast, and the labeling position is uniform, beautiful and tidy; it is suitable for labeling round jars in the pharmaceutical, chemical, and food industries.
Product Labeling Machine Working Principle:
Put the jars on the conveyor belt of the labeling machine, and the conveyor belt will drive the jars into the jar separation area. The conveying mechanism continues to move. After the jar is detected by the visual fiber, the photoelectric signal is transmitted to the PLC. After being processed by the PLC, the output signal is output to the stepping motor, and the stepping motor sends out the label, and the label is attached to the bottle through the rolling mechanism. The labelled jar enters the next process or container by the labeling machine conveyor belt.
Features of Labeling Machine for Jars:
The labeling accuracy is high, using PLC + subdivided stepping motor to drive the label delivery, the label delivery is accurate; the cam brake mechanism is used, and the tension is even.
The application is flexible, and the auxiliary function configuration can be selected according to the actual production conditions of the customer, which can be operated online or independently.
Intelligent control, automatic photoelectric tracking, with no objects and no labeling, no label automatic correction and automatic label detection functions to prevent missing labels and label waste.
Powerful function, color touch screen control, convenient and intuitive, powerful data memory function, can store 50 sets of parameters, convenient for production management, one-click switching of labeling for different products, without repeated debugging, simple and fast.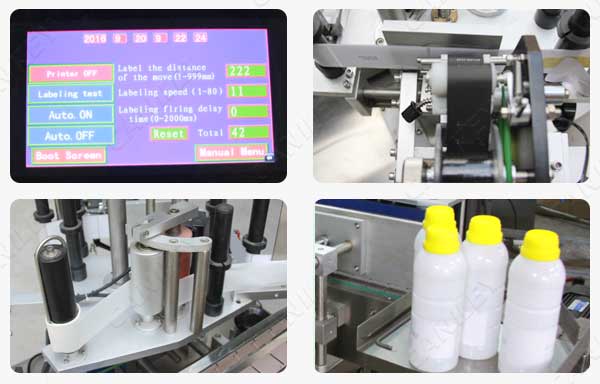 Why Use A Jars Labeling Machine?
The product labeling machine has the advantages of safety, stability and efficiency in work, and meets the needs of automatic and intelligent workflow. Solve the limitations of manual labeling and break through the limitations of traditional working modes. Reduce labeling costs, promote work quality, and ensure labeling accuracy.
The operating system and operation of the labeling machine are simple and have a unique stable control system. Due to the high stability, accidents can be avoided and there is no need to worry about any safety hazards to the working environment.
Jars Labeling Machine Specification:
| | |
| --- | --- |
| Poster speed | 0-200 pcs/min |
| Bottle diameter | Ф20-Ф100mm |
| Bottle Height | 25-300mm |
| Label size | Width:10-140mm length:15-200mm |
| Labeling precision | ±1mm (depending on the bottle degree, perpendicular round) |
| Labeling Maximum diameter | Ф300mm |
| Weight | 200kg |
| Power supply | AC110V/220V 50/60HZ 500W |
| Machine size | 2000X1300X1500 |
| Printing device | HP-260Q(optional) |