The talcum powder filling machine is an economical and practical powder filling and sealing machine, which can realize the positioning, filling and measurement of containers. The automatic baby powder packing machine is generally composed of a feeding conveyor, a screw metering machine, a chain conveyor and a pneumatic positioning device, and can form an automated filling line with a bottle unscrambler, capping machine, and labeling machine.
Talcum Powder Filling Process Flow:
Powder refers to a powdered product made by crushing and mixing one or several raw materials. It is a very common material form. The talcum packing process generally includes bottle sorting, ingredients, mixing, filling, sealing, quality inspection, etc. Realize one or more of the functional devices according to actual needs.
Powder Filling and Sealing Machine Application:
Suitable for automatic quantitative filling of bottles and cans of powdered products. Such as baby powder, coffee, milk powder, spice powder, etc.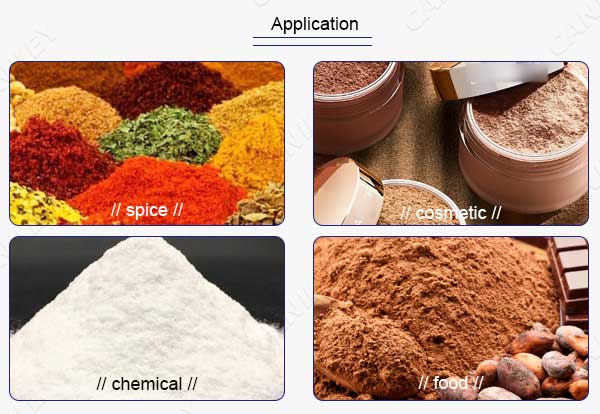 Talcum Powder Filling Machine Features:
The filling and sealing machine integrates machine, electricity, and light to realize automatic bottle unscramble, conveying, talcum powder feeding, talcum powder metering, bottle positioning, talcum powder filling, bottle capping, bottle labeling, coding and other functions.
The filling and measuring device adopts auger quantitative, accurate measurement, fast filling speed and high efficiency. You can replace the auger of different specifications according to the filling volume.
The control method is PLC, English LCD touch screen display. And the adjustment parameters of a variety of products with different specifications can be stored for next use.
Add dust removal device and specially designed anti-leakage device according to material characteristics to ensure a cleaner and sanitary environment.
Powder Filling and Sealing Machine Maintenance Knowledge:
The machine needs regular maintenance. After the daily work is over, you should clean the machine in accordance with the operating regulations.
When the equipment fails during operation, you should cut off the power first to stop the equipment from running to avoid damage to the filling machine. Restart the operation when the maintenance personnel have eliminated the fault.
The filling machine needs to be maintained and inspected regularly to see if there is any looseness or abnormality. Check whether the lubrication condition of the conveyor belt and gear is good, pay attention to the usual maintenance of the equipment. it will extend the service life.