This medical powder packing machine is widely used in automatic packaging of loose powder products in the food, pharmaceutical, chemical and other industries, such as medical powder, instant coffee powder, protein powder, tea powder, milk powder, etc.
The multi lane sachet packaging machine is loved by customers because of its many features:
Programmable PLC control system:
The humanized touch screen control interface enables simple and quick parameter setting to adjust packaging parameters. It can display the production situation intuitively, and has the functions of automatic fault reporting, automatic shutdown, and automatic diagnosis. Make the medical powder packing machine safe and simple.
Temperature Table:
Independent control of the horizontal and vertical sealing temperature, suitable for packaging of various packing materials.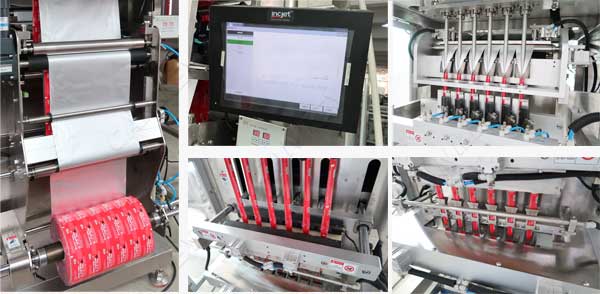 Screw Measurement Method:
The multi lane sachet packaging machine uses servo motor to control the screw filling method, the packaging accuracy is high and easy to clean.
Automatic Hob Film Separating Device:
The automatic hob film separating device is not easy to wear and the film is separated accurately.
End Seal Cutting Area:
Constant temperature heat-sealing cutter seals the front and back ends of the packaged product to avoid curling or loopholes in the sealing position.
Packaging Materials for Medical Powder Packing Machine:
Polyester/polyethylene, polyester/aluminized/polyethylene, polyester/aluminum foil/polyethylene, paper/polyethylene, nylon and other heat-sealable composite materials
Note:
This is only one model of this series of multi lane sachet packaging machines. If you are not sure whether this model is suitable for you, tell us your requirement and we will recommend a suitable model for you.
Multi Lane Sachet Packaging Machine Specification:
| | |
| --- | --- |
| Model | CKMLPF-800-06P |
| Package material thickness: |  0.04-0.08 mm |
| Bag length range: | 50mm-120mm |
| Bag width range: | 40-100mm |
| Sealing width: | 4-15mm |
| Packing speed: |  20-45 times / Min |
| Gas source: | 0.6-0.8Mpa |
|  Power supply specification: | 220V/380V 50/60HZ |