The single sachet wet wipes machine is suitable for making and packing sterilizing alcohol pad, wet wipes, disinfectant wipes, makeup wipes, etc. Fast speed and wide range of use.
Single Sachet Wet Wipes Machine Working Process:
From folding, severing, liquid injection inside the package, to sealing, cutting, notching (for easy opening of package).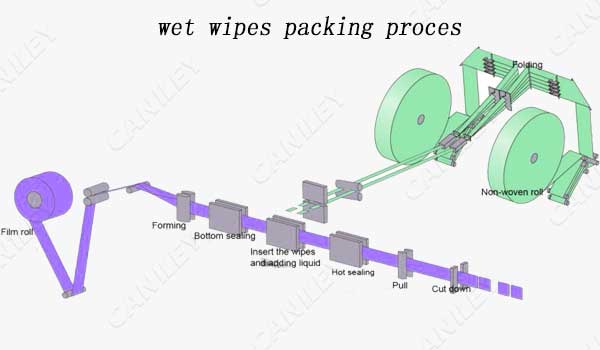 Composition of Wet Wipes Machine for Sale:
→Forming and bottom sealing
fold the film and forming it into bag, the sensor make it more exactly ,no blank edge.
→Cutting and inserting parts
cut tissue, fold and insert it into the sachet, then add liquid
→Prints parts
two sets for print code, one set for print tear parts, you can change the steel letters to control the date and codes print on the sachet.
→Collecting part
the packing arm will collect the bag and stack it onto the conveyor, the number of the stacking can be setting on the touch screen.
Wet Wipes Machine Working Video:
Single Sachet Wet Wipes Machine Features:
☆ Sealed twice to avoid liquid leak.
☆ Wet wipes can be folded in different ways. It can be horizontally folded for 4 times at most.
☆ Advanced measuring pump is available for accurate liquid volume control (the filling error is about 0.01ml/time)
☆ The wet wipes packing machine body is made of stainless steel and is beautiful and durable. It  with low electricity and air consumption, simple cleaning and much lower operation.
Specification of Wet Wipes Machine for Sale:
Model
CK-VPD250
Packaging size
50-110mm  Length
Packaging material
Composite materials such as composite films, aluminized films, polyethylene / polypropylene
Wet wipes material
30~80g/m2  Clean paper, wet strength paper, non-woven fabric, spunlace non-woven fabric
Unfold the size of the wet wipes
Width:30-240mml
Length:60-240mm(according to requirements)
Folding Method
Fold up to 8 times in the longitudinal direction and 4 times in the horizontal direction
Packaging speed
60~120 bags/min
Dosing range
0-5ml Liquid accuracy±0.01ML
Power
Single phase 220V  50/60Hz  4.8Kw
Gas consumption
air compressor
0.5-0.8m3/min  300-500L/min
Machine weight
1100Kg
Machine size
2800mm×2800mm×1800mm