This soap wrapping machine model can be customized by users' working requirement to fit varied industries of Pharmacy, Cosmetics, Foods, Stationery & Electronics, etc.
Features of Automatic Soap Wrapping Machine:
Feeding by conveyor: soap is fed by conveyor to save working seconds & enhance efficiency. The low friction conveyor is a good options to prevent the soap from scratching.
Clawing type film deliverer: the dual clawing type film deliverer to ensure the stable film feeding and prevent working problem from static.
One way film feeding unit: this unit is designed by one way bearing to ensure film without rewinding.
Add tear tape: it can lift the string tab to help user tear the packaging film easily.
Simple operation: worker needs to press only one button to control the packaging speed without complicated adjustment.

This soap wrapping machine can provide the versatile solution you are looking for, as follows:
Protection – prevent the soap from going bad at too high temperature.
Security – safe operation, no mechanical damage.
Seal area flexibility – allows the longitudinal seal to be positioned either on trailing edge or on the base of the soap, depending on soap design and marketing needs.
Geometrically exact end folds – giving that sleek finished look.
Easy open tear tape facility.
The wrapping mchine works stable, basing on production capacities, user can adopt the manual, semi-auto or fully automatic machine to create the better efficient productio.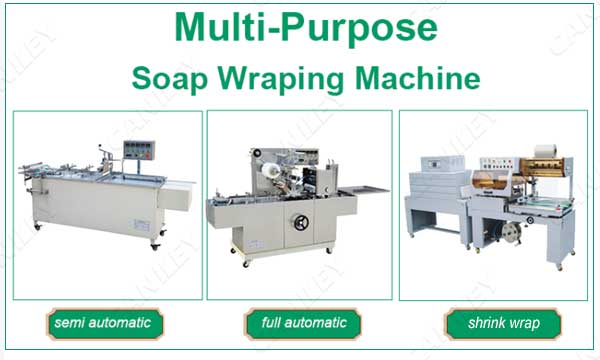 Soap Wrapping Machine Specification:
Model
CK-BTB-300A
Packing Material
bopp film and tear tape
(bopp thickness: 22μm,tear tape:2.5mm,3mm)
Packing Speed
40-80boxes/min
Max Packing Size
L 240*W 120*H 60 mm
Voltage and Power
220V 50Hz 5kw
Machine Weight
500kg
Machine Size
L 2000*W 700*H 1400 mm