The cashew nut packing machine is mainly apply in automatic weighing and packing various granular products in food or non-food industries, such as chips, nuts, frozen food, vegetable, sea food, nail, etc.
How Does Cashew Nut Packing Machine Work?
In the upper feeding hopper, the cashews are vibrated through the main vibrating plate, and the cashews are distributed into the linear vibrating plate on the cone-shaped funnel.
When the material is not enough, it will be sensed by the material weighing module, and send a feeding signal to the main board, then send a feeding signal to the material conveyor through the main board.
The line vibration machine vibrates, drives the line vibration plate to vibrate, adjusts the appropriate amplitude and vibration time to send the materials to each storage hopper.
The stepping motor works, opens the door of the storage hopper, and sends the cashew nuts to the weighing hopper.When there is no material in the weighing hopper below or when there is not enough material in the weighing hopper, the storage hopper will automatically open the door and put the materials in the weighing hopper.
The material in the weighing hopper generates a weight signal through the sensor, and then transmits it to the main board of the control device through the lead wire.The CPU on the main board reads and records the weight of each weighing bucket, and then through calculation, analysis, and combination, the combined weighing bucket close to the target weight is screened out. When receiving the unloading request signal sent by the packing machine, the CPU sends a signal to start the weighing hopper, and the motor driver opens the selected weighing hopper and unloads the cashew nuts into the feeding chute into the packing machine to complete the packing step.
Automatic Cashew Packing Machine Features:
IP65 waterproof, can use water cleaning directly, save time while cleaning.
Modular control system, more stability and lower maintenance fees.
Production records can be checked at anytime.
Preset stagger dump function to stop blockage.
Design linear feeder hopper deeply to stop small granule products leaking out.
Food contact parts disassembling without tools, which is easier to clean.
Multi-languages touch screen for various clients, English, Russian, French, Spanish, Arabic, etc.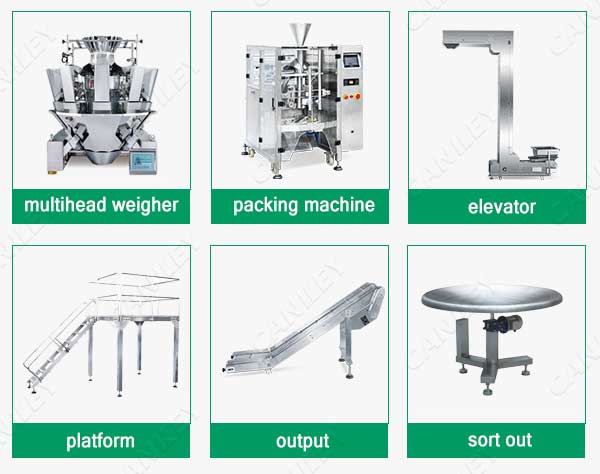 Automatic Cashew Packing Machine Main Function:
Touch screen
Sensor
Load cell
Self-diagnosis
Stagger dump
Counting
Multi-discharge
IP 65
Types of Cashew Nut Packing Machines: