The rotary pouch filling machine is a 6/8-station rotary filling and sealing machine, which makes the food packaging process more automatic and can help your business grow.
Why Use A Rotary Pouch Filling Machine?
The machine is very suitable for packaging liquid foods for commercial distribution and sale. For example, juice, sauce, broth, etc. Sealing perishable food in a packaging bag can extend the shelf life and protect the food from bacteria. Doing so will reduce waste and allow more products to be distributed and sold.
Secondly, it can be used for bag-type packaging such as flat bags, stand-up bags, gusseted bags, etc. The packaging materials can be foil, plastic, composite film, etc.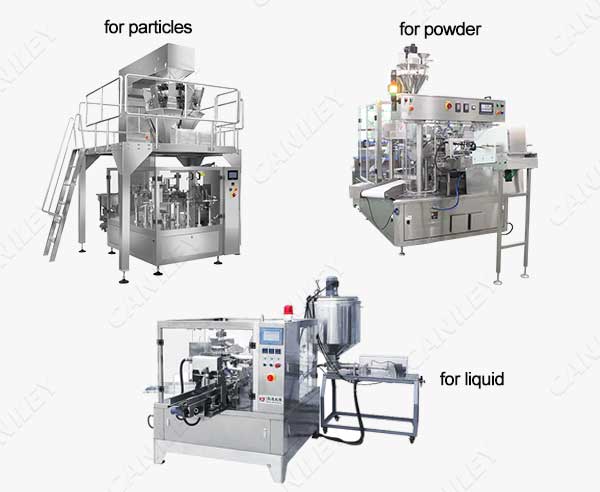 Working Process:
Feeding bag
Clip bag
Print date (optional)
Bag opening inspection
Filling
Bag closure or other options
Bag sealing and deflation
Cooling and output.
Foil Pouch Filling Machine Features:
The rotary pouch filling machine replaces traditional manual packaging, realizes product packaging production automation. Improves production efficiency, and greatly reduces product costs. One person can operate, which greatly reduces labor costs.
The foil pouch filling machine with an automatic monitoring system device, which can detect air pressure, temperature controller, and whether the bag is open or not to judge the state of the machine. It can monitor whether the coding device, the filling device, and the heat sealing device are operating, so as to avoid wasting packaging materials and raw materials.
You can change the bag size quickly, and the width of the automatic bag feeding device can be automatically adjusted at one time.
Low packaging material loss. This machine uses premade bags with perfect packaging patterns and good sealing quality. Improves the product quality.
The rotary pouch filling machine adopts an advanced PLC and POD electrical control system, with friendly man-machine interface and convenient operation.
Meet the sanitary standards of food processing machinery. The parts on the machine that are in contact with materials or packaging bags are made of stainless steel or other materials that meet food hygiene requirements to ensure food hygiene and safety.