The biscuit packaging machine can automatically complete the roll film bag making, wrapping, sealing and cutting. Suitable for single or multiple high-speed continuous packaging of fixed shape items. The flow packaging machine has high production efficiency, low noise, stable performance and beautiful packaging effect. It can be used in conjunction with the feed line, or it can be used alone.
Bakery Biscuit Packing Machine Features:
The control and driving core is composed of servo motor, programmable controller and color touch LCD screen, which greatly improves the control accuracy, speed range, reliability and intelligence of the flow packaging machine; makes the cutting length and sealing temperature more accurate.
The servo motor drive realizes the material feeding, film feeding, vertical sealing, horizontal sealing and output of the biscuit packaging machine, which simplifies the mechanical transmission system and makes the operation of the packaging machine more stable and reliable.


Adopt dual drive vertical seal and advanced vertical seal heating technology, the temperature of the vertical seal is low, and the probability of scald film is reduced; the sealing effect is good, the lines are smooth and beautiful.
With automatic monitoring function, it can diagnose the causes of failures during the operation of the bakery biscuit packing machine and give solutions.
The transmission of the whole machine adopts cantilever type, compact structure, which makes the operation, daily maintenance of the packing machine more convenient and simple.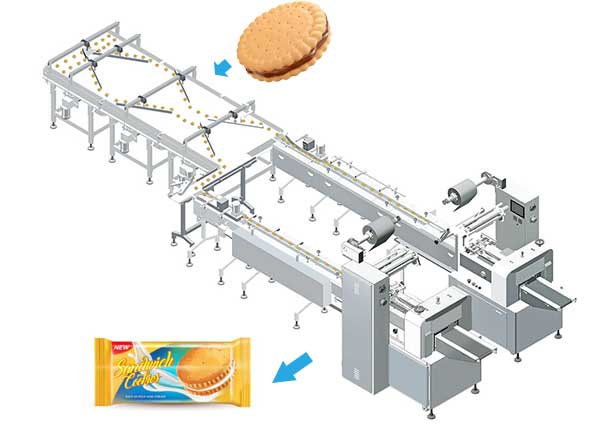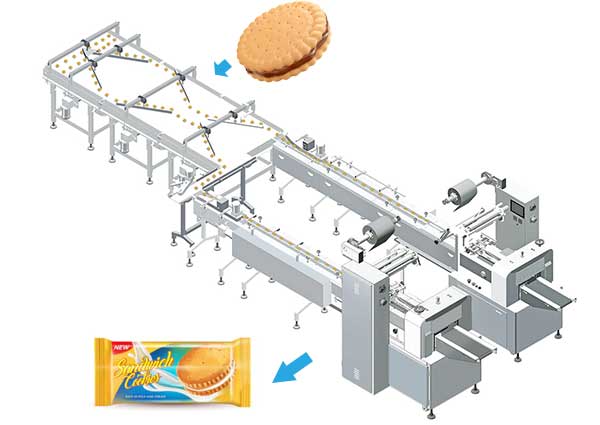 Optional:
Inflatable device
Special sealing method
All stainless steel
Coding machine
Exhaust device