For moringa tea packing, according to different material forms, different machines are needed to complete.
For moringa tea leaves packing machine:
Commonly used is the pyramid tea bag packing machine.
Ultrasonic sealing, beautiful bag shape and firm sealing, larger brewing space.
The weight of the packaging can be adjusted at will, which is convenient for changing the type of tea.
The moringa tea packing machine uses PLC programmable control, touch screen operation, more stable performance and simpler operation.
Using high-precision electronic sensor measurement to make the packaging accuracy more accurate.
String and tag tea bags and no string no tag tea bags can be realized by only changing the packaging materials.
The moringa tea packing machine can realize the packaging of Moringa tea, herb tea, green tea, flower tea, etc.
For moringa powder packing machine:
There are different models to choose from according to packaging requirements.
Small sachet packing
The bag-making system adopts stepper motor subdivision technology, and the bag-making precision is high, and the error is less than 1 mm.
The temperature controller is used to make the sealing quality higher.
The microcomputer bag length controller can set the bag length arbitrarily without replacing parts, and can pre-make the count, display the packaging speed, the bag length, etc.
All parts in contact with moringa powder are stainless steel.
In order to ensure the stable operation of the moringa powder packing machine, this equipment has an automatic shutdown/alarm function.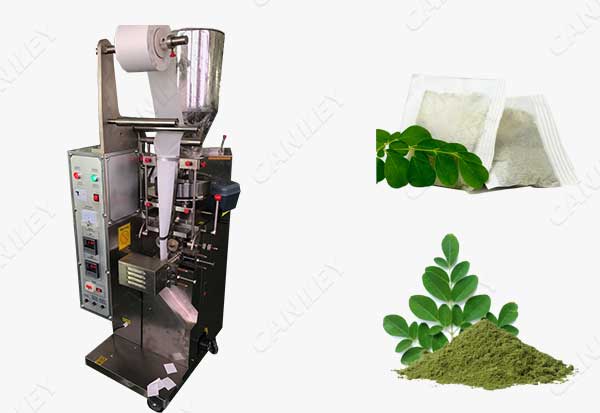 Premade pouch packing
Horizontal bag delivery mode, the bag storage device can store more packaging bags.
Adjusting the bag width is controlled by a motor. Press and hold the control button to adjust the width of each group of machine clips at the same time. Easy to operate and save time.
Use oil-free vacuum pump to avoid pollution of production environment.
The zipper bag opening mechanism is specially designed for the characteristics of the zipper bag opening to avoid deformation or damage of the bag opening.
Meet the hygiene standards of the food processing industry. The parts on the moringa powder packing machine that come into contact with moringa powder or packaging bags are made of stainless steel or other materials that meet food hygiene requirements to ensure food hygiene and safety.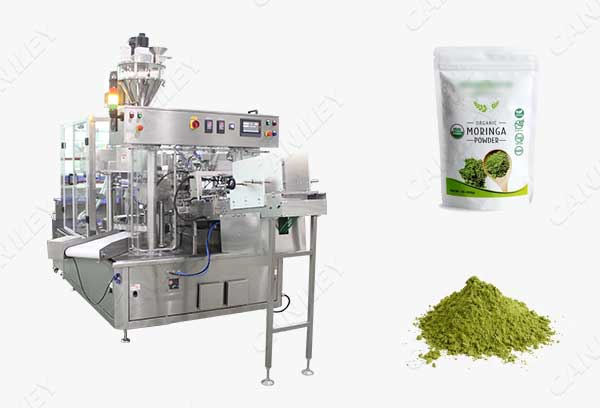 Of course, according to the packaging requirements of different customers, we also provide other types of moringa tea packing machines. Tell us your packaging requirements, we will recommend suitable machines for you, and send machine prices.