There are 3 types of salt packing machines in our company.
salt sachet packing machine
1kg salt packing machine
multilane stick pack saltpacking machine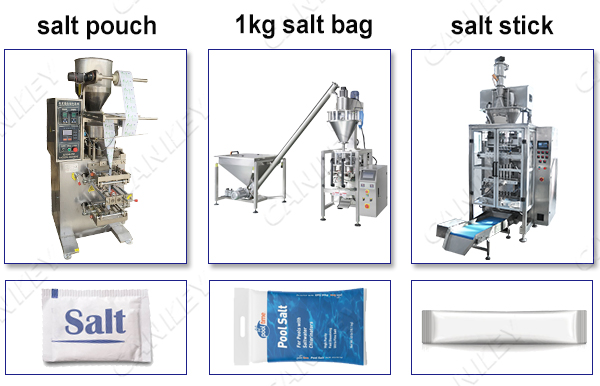 Among them, the multilane type is our newly developed model:
☺With this machine you can produce 240-320 pcs/min, the machine with high quality and fast speed.
☺The multilane salt packing machine can pack not only salt but also black pepper. Dosing system is volumetric.
☺The machine has an automatic alarm protection function to reduce the loss of packaging materials.
☺Servo motor drawing system, pneumatic control for horizontal sealing, accurate positioning and beautiful packaging.
☺The salt packing machine adopts a photoelectric tracking system to ensure the automatic symmetry of the double-sided printing pattern of the packaging bag, and it can also automatically count.
And the 1kg salt packing machine is also a good choice.
☆ It is mainly used to pack bags of 1kg, 2kg or larger.
☆ We use high-quality technology and components to make the machine work continuously for 24 hours.
☆ And there are sensors inside the machine hopper. When the salt comes too much and machine hopper is full, auto feeding stops, when the product decreased inside the hopper auto feeding system starts to feed the machine. System works automatically.
☆ Other optional features are, date coder, finished product conveyor and boxing systems.
The actual choice depends on the actual needs of customers, and we will recommend suitable models according to customer packaging requirements.