The automatic multi lanes salt stick pack machine can be used to pack various granular materials, such as: salt, sugar, spice, coffee, desiccant, etc. The stick pack machine for sale is widely used in medicine, food, makeup and other industries.
Slat Packing Machine Features:
The machine has an automatic alarm protection function to reduce the loss of packaging materials.
Servo motor drawing system, pneumatic control for horizontal sealing, accurate positioning and beautiful packaging.
This salt packing machine can automatically complete all packaging processes such as measuring, feeding, filling, bag making, date printing and so on when matched with a measuring device.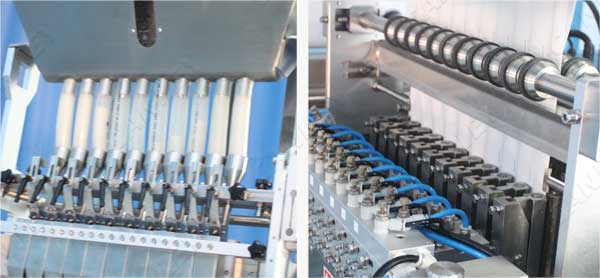 Automatically complete the printing of batch number, production date, and expiration date, with clear and neat handwriting.
The salt stick pack machine for sale adopts a photoelectric tracking system to ensure the automatic symmetry of the double-sided printing pattern of the packaging bag, and it can also automatically count.
Multi lanes salt packing machine adopts international advanced technology, beautiful appearance, PLC full computer control system, man-machine interface, and simpler operation.
The length of the packet is set through the touch screen, and the length of the packet will be automatically adjusted according to the color mark when there is a color mark on the film roll. The bag length can be adjusted without changing the mold.
Record and display output and heat sealing temperature, and can continuously record running time. After the equipment completes the packaging quantity set for each product, it will automatically stop.
Our company has set up a production department, R&D department, after-sales department, and purchasing department to provide customers with complete packaging solutions.
Model
CK320-8
Voltage
220V,50Hz,single phase
(could be customized)
Bag length/mm
90-180
Bag width/mm
16-22.5
Film Width/mm
Max 320
Lanes No
8
Speed/bag/minute
240-320 bags/minute
Sealing ways
Back sealing,3 sides sealing and 4 sides sealing
Dimension
1585*1018*2005mm
Weight
400kg
Materials
304 stainless steel