Our customized dried fruit packaging machine can weigh and pack your dried fruit faster while minimizing dried fruit waste. Obtain leading productivity through high speed, accuracy and high efficiency. The pillow bag packaging machine can process raisins, dates, figs and mangos, semi-dried apricots and fruit-rich grain mixtures.
The dried fruit packaging machine is equipped with a special hopper, a dispersion table and vibration control to increase the speed. You can also use the hybrid weighing solution to package dried fruit mixtures and process up to 8 different dried fruit at the same time.
Pillow Bag Packaging Machine Advantage:
✓ Improve productivity
✓ Simplified packaging process
✓ Fast return on investment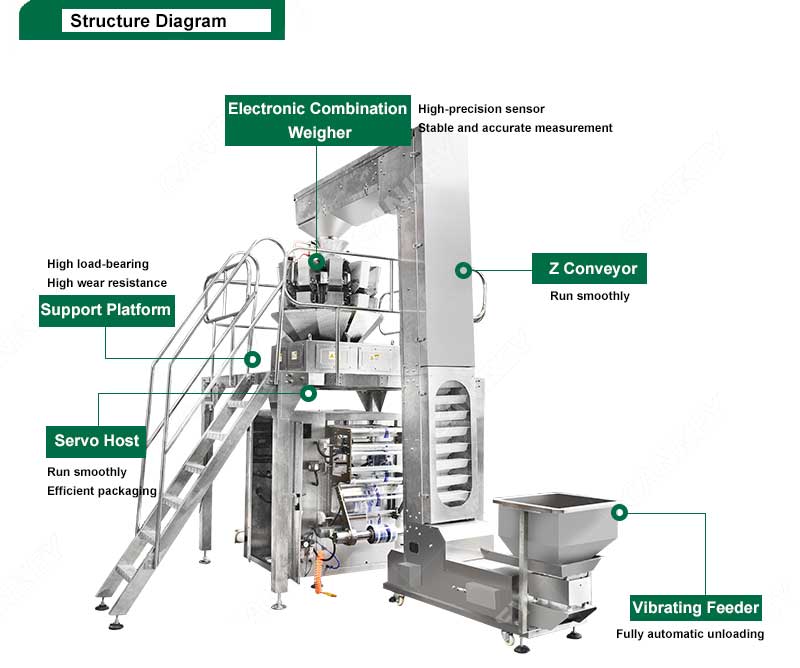 Dried Fruit Packaging Machine Features:
It is made of 304 stainless steel, in line with food QS and pharmaceutical GMP hygiene standards.
The machine adopts PLC control, and the touch screen man-machine interface is more convenient.
The working speed can be steplessly adjusted within the specified range through the frequency conversion speed regulating device.
Overload protection, safety device, automatic alarm prompt when the working pressure of the machine is abnormal or the heating pipe fails.
The pillow bag packaging machine can intelligently detect whether the bag is opened and whether the bag is intact. In the case of improper feeding, no feeding dried fruit. Will no waste of packaging film can save packaging costs.
Pattern sealing, good sealing effect, enhance product added value.
Multi-layer composite film, single-layer PE, PP and other materials can be used, and the packaging range is wide.
High safety performance, the machine will automatically stop when the door is opened to prevent accidental injury by the machine.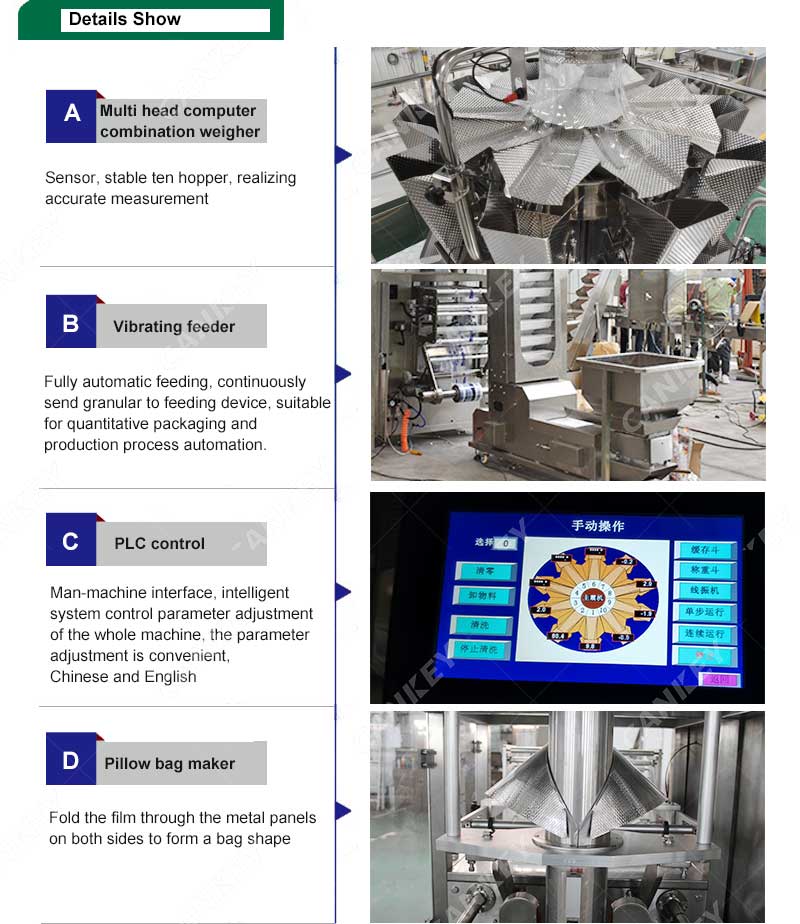 If you have been looking for a dried fruit packaging machine, we will be a good choice. Our equipment will enable you to pack dried fruit more efficiently and quickly, while reducing labor costs. If you have special packing requirements and need customized equipment, we will customize a suitable packaging solution for you. Our machine is durable and can be sold separately or as a complete packaging solution.
We look forward to working with you at any time.