The increase in ice cream sales will also increase the demand for ice cream spoons. In order to ensure the cleanliness of each ice cream spoon, the individual packaging method is very popular. So the professional ice cream spoon packing machine came into being. The machine can be used for packaging disposable tableware such as wooden spoons, plastic spoons, forks, etc. Widely used in the food and hotel industries.
Ice Cream Spoon Packing Machine Work Process:
---
Before packaging ice cream spoon, first set the size of the packaging film. The packaging film is sent out by the feeding mechanism, and a cylindrical bag is formed in the bag maker part. Immediately after the two ends of the film are shaped like palms, heat and pressure are applied to the two ends of the film at the sealing part, and heat sealing is performed. With the supply conveyor provided at the front end of the bag maker, the spoon is continuously inserted into the cylindrical film at certain intervals. Heat the film at the end sealing device. At the same time of pressurization and heat sealing, cutting, and ending the complete packaging process, and repeating the cycle again and again.
Plastic Spoon Packing Machine Features:
---
The whole machine is controlled by 3-5 sets of servo motor mechanism to complete the packaging action.It satisfies the synchronization of feeding, pushing, film feeding, sealing and cutting speed, and can realize intelligent adjustment.
The plastic spoon packing machine is convenient to change the type of spoon and realize multiple functions in one machine, thereby greatly saving adjustment time and packaging cost.
Adjustable touch screen operation panel, easy to operate. The product technical parameters can be stored and retrieved. When the spoon type is changed, only the corresponding parameters can be retrieved for packaging.
The new longitudinal sealing heating structure can meet the good sealing of the longitudinal sealing at a lower temperature during high-speed packaging.When the machine stops, the heat-sealing wheel opens automatically, which effectively prevents the packaging film from being scalded.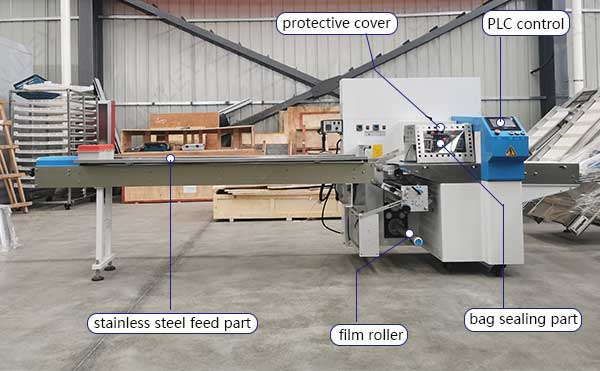 Precautions for use:
---
Before starting each time, check that there must be no debris on the work surface, conveyor belt, and horizontal sealing tool holder, and observe whether there is any abnormality around the ice cream spoon packing machine.
During the peak production season, each machine should be regularly inspected, cleaned and lubricated. At the same time, heat dissipation and ventilation must be done well. Do not place the machine in a hot, humid, or dirty environment.
In the ice cream spoon packing process, the parts of the sealing and cutting film are of high temperature, so do not touch the heating sealing wheel, the sealing mold and the moving parts at will to prevent burns. It is also forbidden to extend your hair, gloves, and clothing into the moving parts of the machine to avoid being involved and causing accidents.
Spoon Packing Machine Parameter:
---
| | |
| --- | --- |
| Model | CK-ZS250 |
| Film width | Max 250mm |
| Bag width | 30-110mm |
| Product height | Max 40mm |
| Film diameter | 320mm |
| packing speed | 40-230bags/min |
| Machine size | 3370*670*1450mm |
| Weight | 800kg |
---