This automatic water filling and capping machine is used to fill mineral water, purified water, drinking water and other non-gas beverage in bottles. It can finish all the process include washing bottle, filling and capping.
Drinking Water Filling Machine Flow Chart: 
air conveyor– washing, filling, capping 3 in1 machine– light checker– blow dryer– date printer– lableing machine — cartoning machine
The Automatic Water Filling and Capping Machine Mainly Composed of 3 Parts:
❤ Washing Machine
All 304 stainless steel rinse heads, water spray style inject design, more save water consumption and more clean
304 stainless steel Gripper with plastic pad, ensure minimal bottle crash during washing
❤ Water Filling Machine
304 stainless steel high precision filling nozzle
Filling volume adjustable in fine rank, same liquid level after filling
❤ Capping Machine
Electromagnetic capping heads, with burden discharge function, make sure minimum bottle crash during capping.
Automatic stop when lack of bottle
No bottle no capping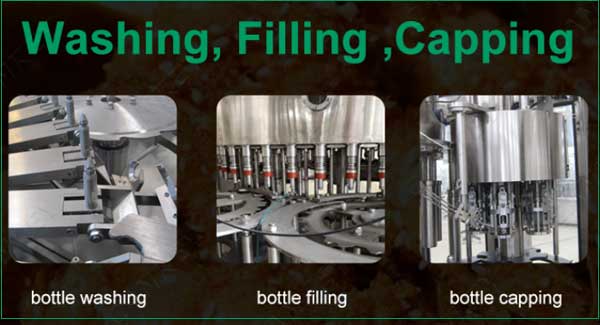 Drinking Water Bottle Filling Machine Features:
The water filling machine adopts the hanging type bottle mouth conveying structure to make conveying bottles more reliable. Different bottle types only need to adjust the height of the conveyor belt and a small amount of accessory changes.
Using the principle of micro-negative pressure filling, the filling speed is fast, the precision is high, and the liquid level is adjustable.
With spring-loaded flushing tongs, the empty bottle can be automatically turned 180 degrees along the track to flush the bottle, then rinse the inside of the bottle.
The cap screwing head is a magnetic torque screw cap, the cap screwing torque is steplessly adjustable, the cap will not be damaged, and the sealing is tight and reliable.
This drinking water bottle filling machine adopts advanced man-machine interface operation, PLC control, frequency conversion stepless speed regulation and other automatic control technology, and has the functions of no bottle no cap, lack of bottle waiting, etc.
Water Filling Machine Technical Specifications:
| | |
| --- | --- |
| Model | CK-GZ18/24/32TS |
| Filling Bottle | PET bottle,glass bottle |
| Measuring range | 350-2680ML |
| Bottle Size | ∅60-∅112mm,height180-330mm |
| Packing Speed | 5000-18000bottle/h |
| Filling valve number | 18-32 |
| Voltage | 380VAC/50HZ |
| Power | 2.5-7.5KW |
| Dimensions | 3400L×3000W×2700H |
| Weight | 4000KG-9000KG |
| Precision | ≤±1% |