The potato chips packing machine adopts microcomputer combined measurement method, which is not only fast and accurate, but also suitable for irregular and granular materials, such as candy, puffed food, quick-frozen food, pet food, etc.
Automatic Chips Packing Machine Composition:
Packing machine
Z type hoist
Electronic combination scale
Support platform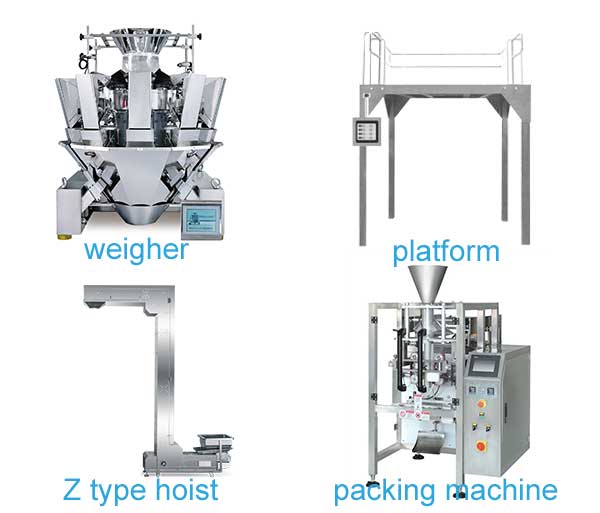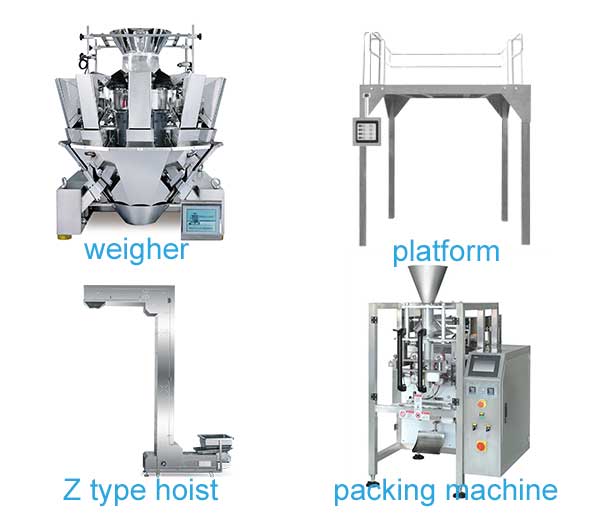 Potato Chips Packing Machine Features:
During rapid weighing, the vibrator can automatically adjust the vibration amount according to different target weight values, so that the blanking is more uniform and the combination is higher.
The potato chips bagging equipment adopts high-precision digital weighing sensor and AD module for accurate measurement.
According to the characteristics of the object to be measured, the opening and closing speed and opening angle of the hopper door can be finely adjusted to prevent jamming.
In combination weighing, it can be set to multiple feeding and successive feeding to avoid the bulky material from blocking the feeding opening.
The automatic chips packing machine with high speed, the measuring device can automatically complete the weighing, feeding, bag making, filling, printing date, counting.
Food contact parts adopt high-quality 316#/304# stainless steel manufacturing process to ensure food safety.
Bag-making form: This potato chips packing machine can make pillow-shaped bags, vertical bags, perforated bags, etc. according to customer needs.