The automatic L-type egg tray shrink wrapping machine is a fully automatic unmanned packaging equipment, which is widely used in the assembly line of mass production packaging. High work efficiency, automatic film feeding, automatic film sealing and cutting. The packaging of egg trays of different widths and heights can be completed only by manually adjusting the film guide system and the feeding and conveying platform.
Egg Tray Shrink Wrapping Machine Features:
Sealing and cutting:
The automatic L-type sealing and cutting machine is widely used in the production line of packaging, with high work efficiency.
The cutter is made of Teflon-coated anti-stick and high-temperature resistant aluminum composite knife, and the seal will not split, coking, smoke, and zero pollution.
The egg shrink wrapper equipped with imported detection photoelectric and relay. (Using Omron photoelectricity).
Automatic feeding, the length is automatically adjusted with a delay switch.
Equipped with an induction motor to automatically wind up waste.
When the egg tray size is changed, the adjustment is very simple, and there is no need to change the mold and bag maker.
The sealing and cutting knife has an anti-cut function, so there is no need to worry about miscutting the packaging.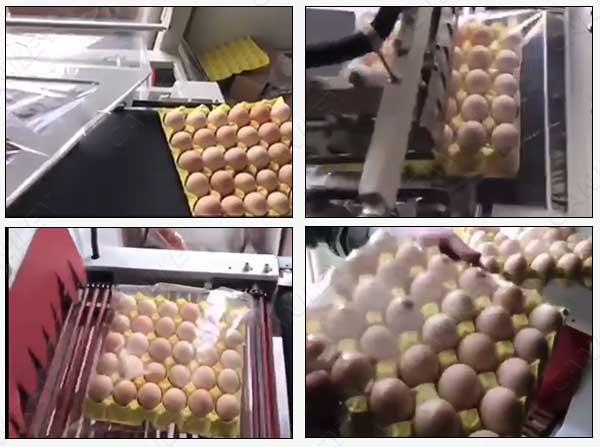 Shrink tunnel:
Adjust belt speed, air flow and temperature.
Unique air regulating device, easy to operate, can adjust the air volume according to egg tray specifications and packaging speed.
Advanced and unique centralized heating method.
Effectively accelerate the heating time and relatively reduce power consumption.
The hot air circulation channel adopts a return-air furnace liner structure, and the hot air only runs in the furnace cavity, effectively preventing heat loss.
Egg Tray Shrink Wrapping Machine Application:
This egg shrink wrapper machine is suitable for batch packaging of egg trays, gift boxes, food, cosmetics, printed matter, medicine, beverages, tape, daily chemicals, electronics, greeting cards, photo albums, photo frames and other industries.