Tomato sauce is a very common condiment, it is widely used in restaurants, fast food restaurants, and even most families. Tomato sauce goes through a series of processing and packaging before selling, these steps must meet sanitary standards.
How Does Tomato Sauce Process and Pack?
rough washing → fruit selection → bubble cleaning → crushing → feeding → preheating → beating → blending → concentration → sterilization → packing
Tomato Sauce Pouch Packing Machine:
There are many tomato sacue production plants in the world, both large-scale and small-scale. Each factory will purchase different types of packaging machines according to their production capacity and packing requirements, the tomato sachet packing machine for sale in our company as following:
1.Vertical tomato sauce pouch packing machine
The finished pouch can be back sealed, 3-side-sealed, 4-side-sealed, and the packing range is 1-100grams.
Automatically complete all tasks such as measuring, bag making, filling, sealing, cutting, counting, printing production batch numbers, etc.
High precision, easy to operate and accurate to adjust the bag length.
Color code automatic control system can obtain complete brand trademark to ensure the integrity of packing.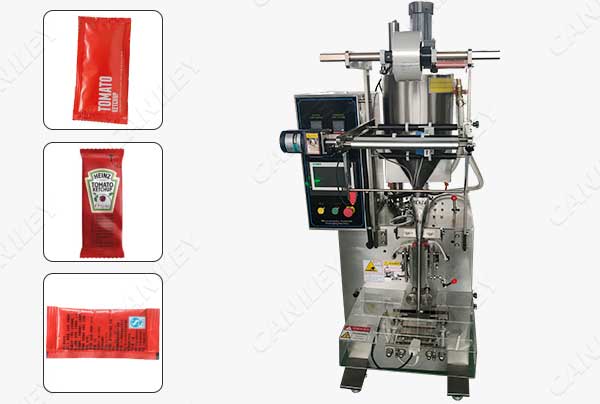 2.Multilane tomato sachet packing machine
It can realize back sealing, 3-side sealing, 4-side sealing, special-shaped bag packaging, suitable for small-dose packing.
Roller heat sealing, high-speed packaging, and the bag shape is flat and exquisite, and the packaging efficiency is high. You can choose 2-12 lanes according to actual needs.
Accurate registration and automatic counting. The photoelectric tracking system is used to ensure the automatic alignment of the double-sided printing patterns of the pouch and the counting is accurate.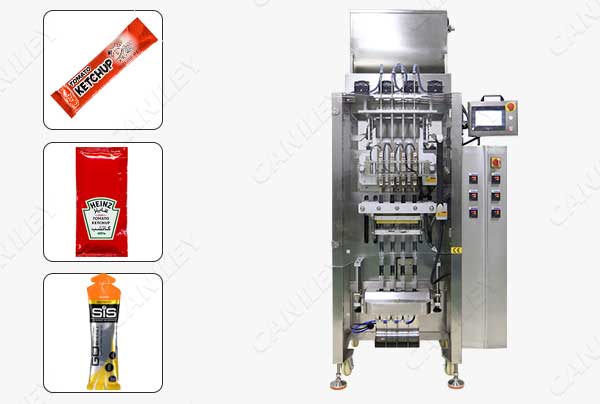 Can be used for packing of zipper bags, spout bags, special-shaped pouches.
Frequency conversion speed regulation: using frequency conversion adjustment device, the speed can be adjusted at will within the specified range.
Easy bag width adjustment: controlled by a motor, 8 sets of machine clips can be adjusted synchronously with just one button.
Double feeding station: a bag can be filled with a variety of different materials.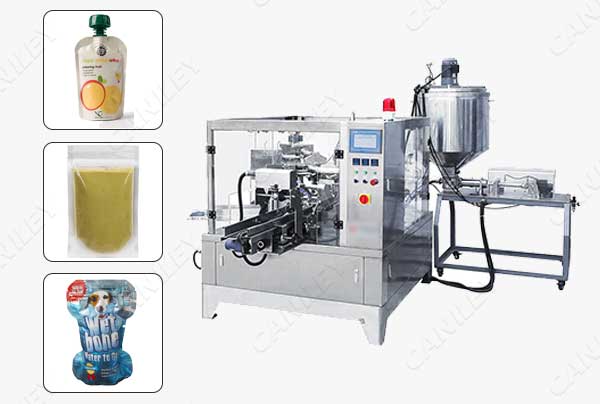 If none of the above three tomato sauce pouch packing machines can meet your packing requirements, please contact us and we will recommend other types of packing machines for you. (email: info@cankeytech.com)
No matter what type of tomato sachet packing machine you want to buy, you need to consider the following questions before buying:
Choose the machine that suits your production output capacity requirements.
Choose a high-quality machine. Ensure continuous and stable operation.
Choose a machine with good after-sales service. Clarify how the supplier will assist you when the machine fails.