This garlic packing machine is designed and manufactured according to the characteristics of garlic, by replacing some parts, you can pack garlic into bags or bottles.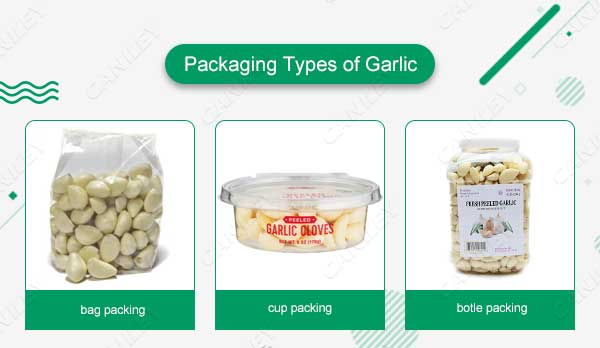 Garlic Packing Machine Working Principle:
Pour garlic into the vibrating feeder, and then lift it to the top of the computer combination weigher for feeding.
The computer combination weigher completes automatic weighing according to the set weight.
The garlicl enters the forming machine, the packaging film is formed and sealed.
The finished product enters the metal detection, if there is metal, it will give a signal to the sorting scale, and then the product will be rejected when it enters.
Non-metal packaging bags enter the weight test, overweight or insufficient weight will be excluded to the other side, and qualified products will enter the disc sorting table.
Workers put the finished bags into the carton from the top of the disc sorting table.
Garlic Packing Machine Advantages:
The whole set of equipment is automated, from material lifting, weighing, filling, bag forming, sealing, printing to finished product conveying are all automated.
High-precision and high-speed automatic weighing.
In any case, opening the safety door will automatically stop, the machine will stop running and give an alarm, which meets the safety requirements.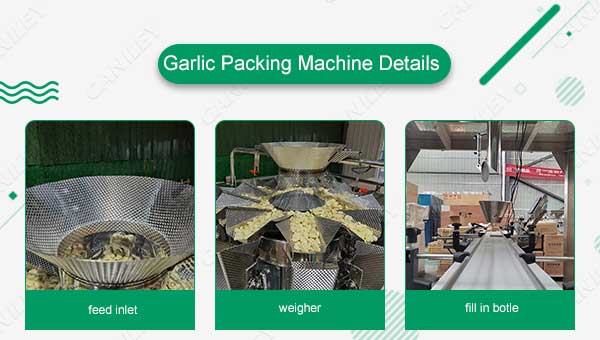 Garlic Packing Machine Main Features:
High-precision, small target weighing: select the appropriate combination, the combination of high precision and high speed.
Simple high-speed operation: Microcomputer control, touch screen display, easy operation and maintenance.
Accurate locating: Servo control pull film, pull film positioning is accurate; electric eye automatic tracking, accurate trademark positioning.
Small space: Optional conjoined weighing packaging design, which greatly reduces the height of the machine and saves space.
Fast return on investment: It saves raw material and labor costs to a large extent.