Pillow-type packaging is a commonly used packaging form for spaghetti noodles, and the entire packaging process is completed through automatic weighing, feeding, bag making, and packaging. Help spaghetti manufacturers simplify the packaging process and improve packaging efficiency.
Spaghetti Packaging Machine Composition:
1 flow packing machine, 1 conveyor line, 3 spaghetti weighing machines, 3 feeding elevators, and 3 pneumatic online buckets.
Use of Spaghetti Noodle Packing Machine:
Automatically complete the weighing, feeding, filling, sealing and packaging of strip materials such as stick noodles, dry noodles or spaghetti. It can be used in connection with the spaghetti production line.
Spaghetti Packaging Machine Features:
Using well-known brand electrical components, English (switchable language) touch screen interface, PLC control, easy to operate.
The main engine has variable frequency speed regulation, and the adjustment range is large.
The spaghetti noodle packing machine adopts servo motor to control the conveying, cutting and adjustment of the packaging film; it has a complete anti-cutting device and is highly safe.
The conveyor line adopts an integrated structure and has a long service life; it adopts photoelectric coupling control to reduce the probability of leaking packets.
The weighing machine adopts English touch screen and PLC control, which replaces the traditional separation instrument weighing method. The weighing speed is fast, the measurement accuracy is high, the operation is intuitive and convenient, and it is a substitute for the traditional weighing machine.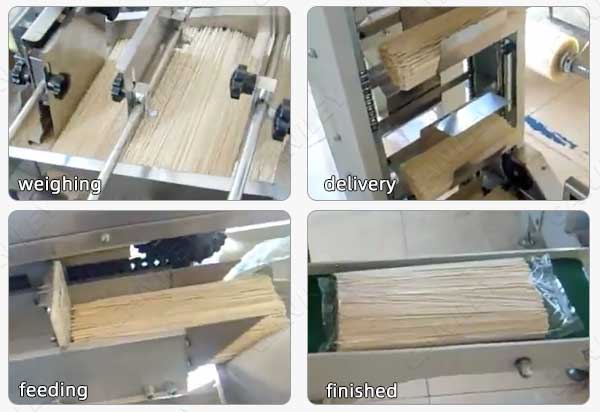 Benefit Analysis of Spaghetti Weighing Packaging Machine:
Save manpower and improve packing efficiency: 4 people operate the equipment, and the daily packaging is about 30 tons, which is equivalent to the output of 40 people.
Save consumables, use film roll instead of premade bags, and save about $100 in film costs per day.
It reduces the chance of hand-packaged human body contacting spaghetti, more in line with the requirements of food safety standards, and facilitates product promotion.
Spaghetti Packaging Machine Technical Parameter:
| | |
| --- | --- |
| Model | CK- GBX-2 |
| Working objec | stick noodles, Spaghetti, dry noodles |
| Noodle length | 100g~500g: (200mm~240mm)±5.0mm |
| | 200g~1000g:(220mm~240mm)±5.0mm |
| Noodle thickness | 0.6mm~1.4mm |
| Noodle width | 0.8mm~3.0mm |
| Packing speed | 20~40bags/min |
| Weighting scope | 200-1000g |
| Values set up | digital input |
| Values showed precisely | To 0.1g |
| Zero adjustment | Automatic or manual |
| Weighting speed and precision | 100g~500g, ±2.0g≥96% |
| | 200g~1000g, ±3.0g≥96% |
| Voltage | single-phase AC220v/50-60HZ 6KW |
| Size | 6400mm*3800mmm*1650mm |