The semolina packing machine is composed of three parts: the packaging machine, the screw feeder and the metering device. Use film roll as the packaging material for packaging. It can be used for packaging powder materials such as semolina flour, corn flour, wheat flour, etc.
Semolina Packing Machine Constitute:
Screw feeder: It is made of 304 stainless steel, thick, with fine workmanship at the welding part, fast measuring speed, high precision and stable performance.
Screw weighing machine: Using 304 stainless steel, fine surface treatment. The material hopper can be disassembled by buttons. Convenient for cleaning and maintenance, in line with corporate safety and health management requirements. Use the motor to drive the screw rod to measure the semolina.
Packing machine: Automatically complete bag making, filling semolina, sealing, cutting and other actions.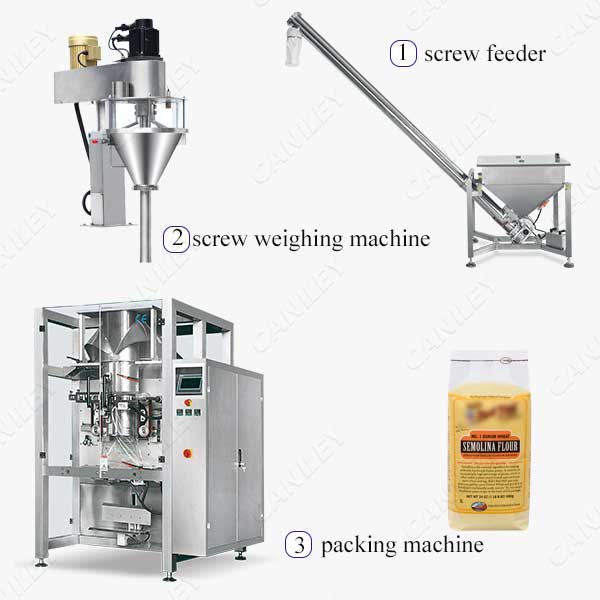 Corn Flour Packaging Machine Technical Features:
Using Siemens color touch screen and stable and reliable dual-axis high-precision output PLC control, high degree of automation.
The air circuit control and the circuit control box are separated independently, with low noise and more stability.
The corn flour packaging machine adopts a double belt servo to pull the film, with low resistance, the bag is well formed, more beautiful, and the belt is not easy to wear.
Fixed film unwinding mechanism, film roll installation is simpler and easier.
The deviation adjustment of the bag only needs to be operated on the touch screen, and the method is simple.
The machine adopts a closed mechanism to effectively prevent dust from entering the inside of the machine.
In order to ensure that the semolina packing machine can better serve the factory, the selection of the semolina packing machine should be combined with the actual production situation:
Clear purpose:For flour packaging, choose a suitable flour packaging machine according to the purpose.
Clarify the measurement requirements of the production process for the packaging machine.Such as: requirements for measurement accuracy, requirements for packaging speed, requirements for packaging environment, etc.
If you have any questions about this machine, you can leave us a message and we will reply you within 24 hours.