Automatic Labeling Machine Working Principle:
Put the bottle on the conveyor belt, the sensor detects that the bottle passes, and sends back a signal to the labeling control system. At the appropriate position, the control system controls the corresponding motor to send out the label and attach it to the bottle to be labeled.
Features of Labeling Machine for Bottles:
Good labeling quality: Adopting the tape circumvention and deviation correction technology, the label head and tail have a high degree of coincidence; the labeling is flat, without wrinkles, and no bubbles, which improves the packaging quality.
High stability: The advanced electronic control system composed of PLC+touch screen+needle-shaped electric eye, etc., supports 7×24 hours high-speed operation of the equipment.
Intelligent control: Automatic photoelectric tracking, no bottle no labeling, no label automatic correction and label automatic detection functions to prevent missing labels and label waste.
Strong and hygienic: the automatic labeling machine is mainly made of stainless steel and high-grade aluminum alloy, conforms to GMP production specifications, and has a firm structure.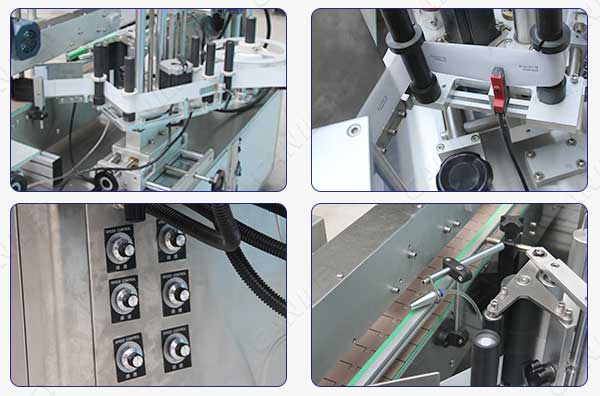 Scope of Application for Round Bottle Labeling Machine:
Applicable label: Self-adhesive labels, self-adhesive films, etc.
Applicable products: Round bottle. If you need other bottle types, you need to choose other models.
Application industry: It is widely used in medicine, cosmetics, electronics, plastics and other industries.
In addition, the labeling machine for bottles can also be used in conjunction with capping machine, heat shrink wrapping machine, cartoning machine, etc. to form a complete packaging line and improve packaging speed.
Note:
This lebeling machine for bottles is suitable for pasting self-adhesive label on round bottles, transparent label does not apply to this machine. we can be customized according to the user's bottle shape and label. Please contact us if necessary: info@cankeytech.com