The high speed shrink wrapping machine wraps the sneaker with shrink film, and then heats it in a shrink tunnel to make the shrink film tightly wrap the sneaker. Fully show the appearance of the sneaker and improve the product showability.
Sneaker Shrink Wrap Machine Features:
Fully automated functions for conveying and feeding, film wrapping, sealing and cutting, shrinking, cooling and shaping.
Adopt advanced film constant temperature heat sealing technology, the sealing is clear and firm.
The sealing rapid cooling structure ensures that the sealing is still high under high-speed production conditions.
The original guide rod cylinder guarantees accurate movement and durability.
The induction switch controls the film feeding system, which can reliably regulate the film feeding length and reduce losses.
All conveying is adjusted by frequency conversion, and conveying is smooth.
Unique shrinkage channel, two sets of centrifugal hot air circulation system, uniform heat balance, tight shrinkage and beautiful appearance.
The packaging combination is easy to adjust and can realize the function of one machine with multiple functions.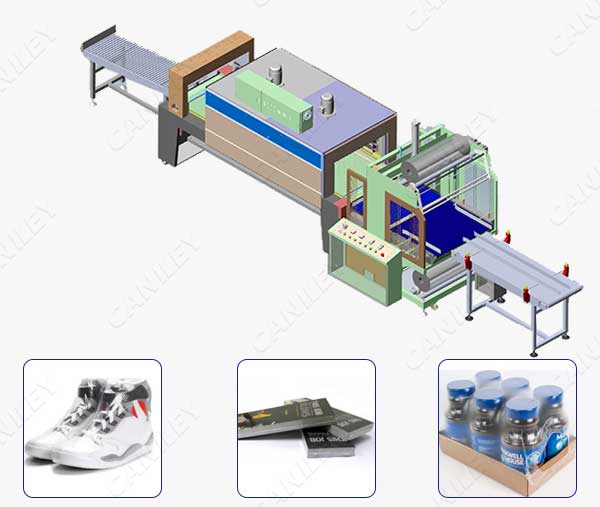 Composition of Sneaker Shrink Wrapping Machine:
The machine consists of an automatic sealing and cutting machine and a shrink tunnel.
Sealing and Cutting Machine

Model
CK-FX5038
Power
1.6kw,220V/50HZ,
Max Packing Size
450*270*330mm
Packing speed
0—-8 pcs/min
Pressure
5kg/square
Dimension
1020*830*1500mm
Weight
170KG

Shrink Tunnel

Model
CKBS-6040
Heating power
22KW
Max Size of Packing chamber
600*400*1500mm
Dimension
2500*850*1400mm
Weight
200kg
Application of High Speed Shrink Wrap Machine:
In different industries, heat shrink wrapping machines have high-efficiency packaging, smooth and beautiful packaging effects. In the beverage industry, multi-bottle beverage combined packaging is convenient for handling and transportation. The pharmaceutical industry also packs multiple boxes together to reduce costs without affecting the packaging effect.