This tomato sauce filling line is suitable for chili sauce, ketchup, honey, peanut butter, syrup and other thick materials. The filling valve can be customized and enlarged according to customer materials to meet the filling needs of different customers and different materials. Equipped with a horizontal mixing hopper to maximize the uniformity of materials during the filling process and ensure filling accuracy.
The tomato sauce filling line can realize the route formed by a series of production activities such as processing, transportation, assembly, inspection and so on from the time the sauce enters the filling equipment. The filling line has great flexibility and can adapt to the needs of multi-variety filling, thereby helping manufacturers to achieve high-speed filling.
The automatic tomato paste filling line is mainly composed of filling machine, bottle unscrambler, capping machine and labeling machine. The whole machine integrates light, machine, electricity and gas. It adopts the piston-type quantitative principle, with high filling precision and simple operation.
Tomato Sauce Filling Machine Features:
The machine is equipped with a system automatic stirring function to make the material mixing more evenly. Effectively solve the problem of large filling deviation.
The pneumatic part adopts well-known pneumatic components, which have a long service life and are relatively stable.
The contact part of the tomato sauce is made of SUS304 stainless steel, which conforms to the food and medicine safety and hygiene regulations.
The filling valve is controlled by a pneumatic valve, and the filling accuracy is stronger.
Filling volume and filling speed can be adjusted at will.
The innovative filling head can effectively solve the situation of wire drawing and leakage.
The bottle size adjustment is convenient and quick, and it is equipped with the system self-lifting system facility.
Adopt integrated core concept design scheme, less consumable parts, easy to maintain.
The tomato sauce filling machine has the function of no bottle filling, and can quickly adjust various glass bottles of different shapes and specifications without replacing parts.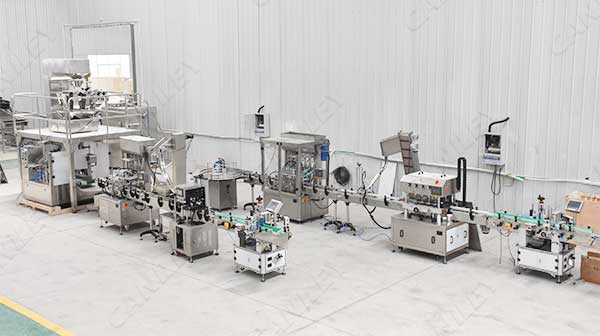 Precautions:
Filling containers must be kept clean, and the filling workshop is as clean and hygienic as possible.
Special attention should be paid to the maintenance of the sealing ring of the filling machine. If a problem is found, it should be replaced in time.
The cylinder of the tomato sauce filling machine has been lubricated before leaving the factory, and disassembly should be avoided as much as possible to prevent damage to the cylinder.
The material of the machine is generally stainless steel. When cleaning the surface, it should be prevented from scratching the surface by hard substances to ensure that it will not contaminate the container and tomato sauce.