The candy packaging machine is suitable for packaging various shapes of candies and has a wide range of applications.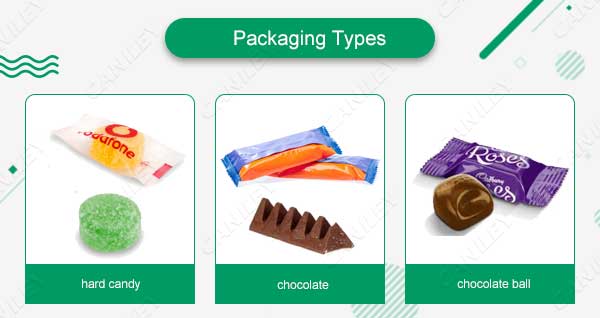 The confectionery packaging machine has very strong working capacity and can be applied to the packaging of food and non-food products of various specifications and models. Choose the cut-and-go method, with high-sensitivity optical eye color mark tracking, and will not seal or cut empty packages or cut diagonally. In the actual operation, choose the man-machine operation, full automatic, mechanical failure is simple and straightforward.
The automatic control system of the candy packaging machine is maintained by excellent intelligent controllable software, which is convenient for professional and technical personnel to adjust the machine, improve the technicality of the packaging, make the machine perform better and be different, and quickly improve the application Sexuality and versatility.
Confectionery Packaging Machine Characteristic:
This machine is a horizontal packaging machine. Its working principle is that the packaging film is fed into the former through the packaging film driving roller and then formed. After the candy is fed into the former by the feeding conveyor, it is longitudinally sealed and transversely sealed and cut, and then discharged by the discharge machine.
Candypackaging machine adopts frequency conversion speed regulation, microcomputer controller (WDK) control system, PlD digital display intelligent temperature controller, photoelectric detection two-way tracking system. Small screen display system and circuit protection system to achieve stepless speed change, automatic tracking of the cut point, accurate temperature control, high packaging accuracy, intuitive display and safety assurance.
Small size, compact structure, high packaging speed, stable operation, convenient operation, beautiful appearance of the packaged product, neat and clear horizontal and vertical sealing lines.The candy packaging machine is suitable for the packaging of biscuits, instant noodles, popsicles, chocolate, soap and other products, and is widely used in food, chemical, daily necessities, medicine and other industries.
Related Machines:
Technical Parameter:
| | |
| --- | --- |
| Model | CK-ZS250 |
| Width of Film | Max.250mm |
| Length of Bag | 65~190mm or 120~280mm |
| Width of Bag | 30~110mm |
| Height of Product | Max.40mm |
| Film Roll Diameter | Max.320mm |
| Packing Speed | 40~230bags/min |
| Power | 220V,50/60HZ,2.4KVA |
| Size | (L)3920×(W)670×(H)1320 |
| Weight | 800Kg |