There are many types of condiment packet filling machines, including vertical packing machine, premade pouch filling machine, multilane packing machine and so on. Which one you actually choose depends on your packaging requirements. Packaging speed, packaging style will affect the choice of packet filling machine. Our company provides complete condiment packaging solutions, from raw material transfer pumps, hoppers, level detectors, piston filling machines, bag forming, filling, sealing machines and end belt conveyors.
Commonly Used Condiment Packet Filling Machine Types Are:
1.Multi Lane Condiment Packing Machine
This model is suitable for small packet packaging, and the output is large, suitable for medium and large condiment factory.
The storage hopper of the machine is equipped with a stirring device to ensure that the material is uniform and does not cause sedimentation.
High level of automation technology, from longitudinal sealing, longitudinal cutting, transverse sealing, filling and discharging, coding, cutting easy tear opening, cutting dotted line, until the output of finished bags can be carried out at one time.
Adopt PLC automatic control system, high level of automation technology, low noise, compact structure, stable operation and long service life.
Strong adaptability to packaging materials. The sealing temperature of the condiment packet filling machine has the function of automatic control system, and the linearity is high (±1℃ up and down).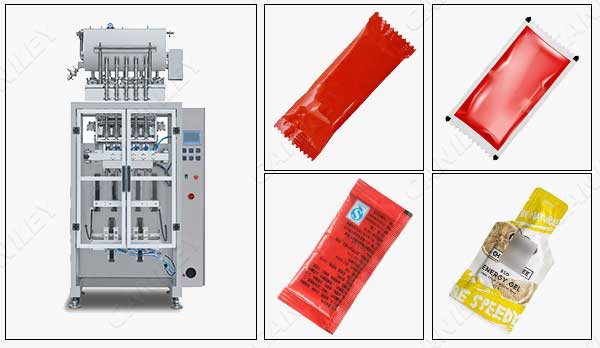 2. Vertical Condiment Packaging Machine:
This model is also suitable for small packet packaging, with small output, suitable for small condiment factory.
Compact structure, made of thick 304 stainless steel, stable and firm, reasonable design and easy to operate.
Adopt a photoelectric eye control system, stepper motor to pull the film, reliable film pulling, stable performance and low noise.
Using variable frequency speed regulation, the operation is more stable, the noise is lower, and the failure rate is low.
The positioning of the packaging film is carried out by photoelectric eyes, which can well control the accuracy of the positioning point of the packaging film and cut out a complete pattern.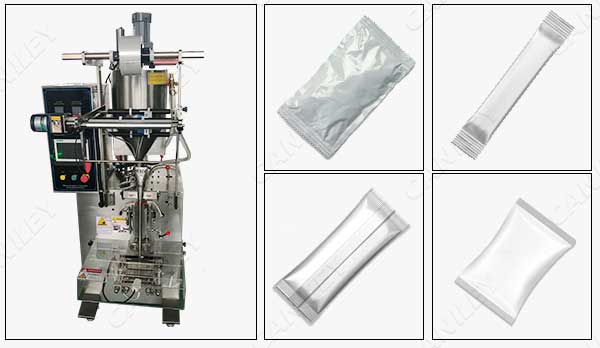 3.Premade Condiment Pouch Filling Machine:
This condiment packet filling machine is suitable for packaging of various types of premade pouches:
Single shaft transmission plus internal cam design. Faster packaging, more stable operation, easier maintenance, and less defective products.
Alert prompt. Modular heating, more accurate temperature control, and alarm prompts for heating failures.
Humanized design concept. It reduces the loss of packaging materials, ensures the stability of equipment operation, and prolongs the operating life of the equipment.
The operation is simple and convenient. Adopt advanced PLC+POD (touch screen) electrical control system with friendly man-machine interface.
If you are not sure which packing machine is suitable for your condiment, you can contact us and we will recommend a suitable model according to your condiment packaging requirements.