Ground Coffee Packaging Machine Working Principle:
Before using the coffee packaging machine, the packaging film must be installed on the machine. After turning on, the bag-drawing stepper motor will pull the packaging film down, then the transmission part supplies the film according to the signal of the sensor, and the packaging film is formed by the former. Then the bottom of the packaging bag is sealed by the heating part, and then the coffee is filled. Finally, seal and cut.
Features of Coffee Packaging Machine for Sale:
Made of high-quality 304 stainless steel, simple structure, reliable operation, simple and convenient maintenance.
Adopting rotating screw feeding, independent stirring system, servo coding, microcomputer control technology, and the screw rotation is driven by the servo motor to achieve the purpose of metering and fillingcoffee.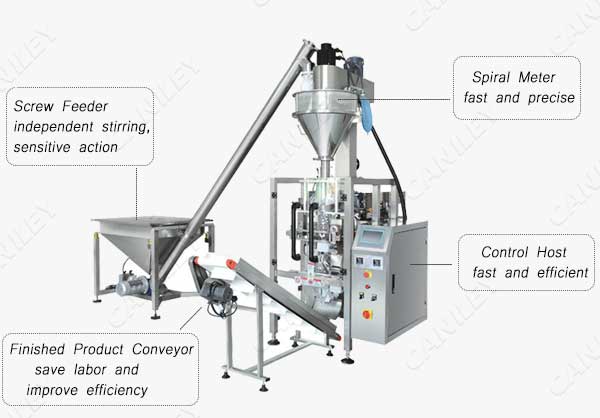 The ground coffee packaging machinecombines coding and control in one, with sensitive action, low noise, stability, reliability, fast measurement speed and high precision.
Servo film transport system, well-known brand color mark sensor, accurate positioning, excellent performance, and beautiful packaging.
Stainless steel open type material box, easy to clean, in line with enterprise safety and health management requirements.
Automatic alarm protection function to minimize loss.
Coffee Packaging Machine Specification:
| | |
| --- | --- |
| Model | CK-ZC420F |
| Air consumption | 2.5m3/min.6kg/cm² |
| Max. film width | 120-380mm |
| Bag length | 80-240mm |
| Bag width | 50-180mm |
| Max. film roll diameter | Max.300mm |
| Packing speed | 5-70bags/min |
| Packing thickness | 0.04-0.08mm |
| Power supply specification | 220V.50/60Hz.2.4KVA |
| Dimension | (L)880*(W)810*(H)1350mm |
| Total weight of machine | 350kg |
Instructions for Use of Coffee Packaging Machine:
Check the power supply and electrical control switches every day to check whether it is safe, reliable, and whether there are abnormal phenomena or unusual sounds.
Pay attention to high temperature protection, wear gloves when working, and avoid touching the position of the heat seal.
The power supply of this machine is AC 220V/50HZ. For customers who need to modify the voltage, please inform in advance.
The operation of the ground coffee packaging machine must strictly follow the instructions. If you are not sure how to operate, you must contact the manufacturer for confirmation.
Contact us for your coffee packaging solution: info@cankeytech.com