Protein powder filling is difficult for many manufacturers because it may produce a lot of dust during the filling process. This is very unfriendly to both the worker and the packaging environment. In order to effectively solve these problems, we have upgraded and improved the automatic powder filler machine.
In order to realize an automated filling process, we have designed this protein powder filling line. The line mainly includes the following parts:
Vacuum Feeder:
The vacuum generation facility is used to generate a vacuum, and the resulting negative pressure difference sucks the protein powder from the feeding port to achieve the role of transportation.
Replace manual feeding, save manpower, no dust leakage during conveying, and clean working environment.
In line with GMP management requirements, 304 food-grade stainless steel material.
Quick disassembly and assembly, modular design, easy maintenance, and disinfection.
The vacuum conveyor is only suitable for compressed air as the power source, the operation is safe and stable, and it meets the requirements of explosion-proof.
Protein Powder Filling Machine:
Adopt PLC and touch screen control, formula preservation, automatic counting, no bottle, no filling.
Straight-line in and out of the bottle, humanized design can be used for quick adjustment and replacement of different protein powder bottle types.
The filling precision is high, and the outlet of the filling head is equipped with an anti-dust leakage device to ensure a good working environment.
The whole protein powder filling machine is mainly made of high-quality 304 stainless steel, which is beautiful and durable, easy to clean, and meets the sanitary requirements of international standards.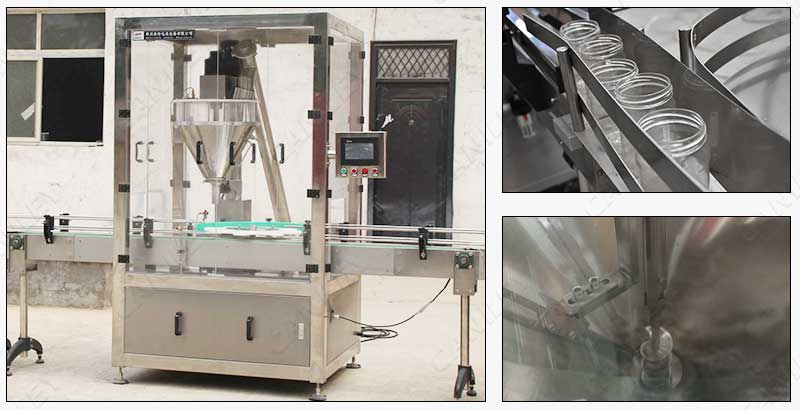 An electromagnetic vibration capping system can accurately screen bottle caps and deliver caps quickly.
The cap feeding track has a large space and is controlled by the adjusting plate and the gate to continuously supply the cover to complete the automatic production.
In a continuous bottle separation operation, the capping speed can be adjusted freely.
The torque strength can be adjusted separately, and the tightness of the screw cap can be adjusted freely.
Change specifications without changing accessories, just adjust the equipment.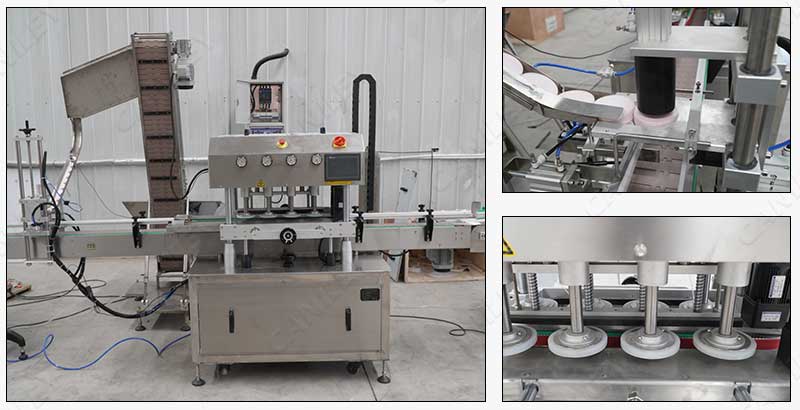 It can be used in multiple ways, not only can be used on a single machine but also can be connected to the protein powder production workshop to form an assembly line.
One machine can complete different labeling methods, which can be used for round bottles, square bottles, etc.
Made of stainless steel or high-grade aluminum alloy, the overall design is very firm and can meet the requirements of high-speed and accurate labeling.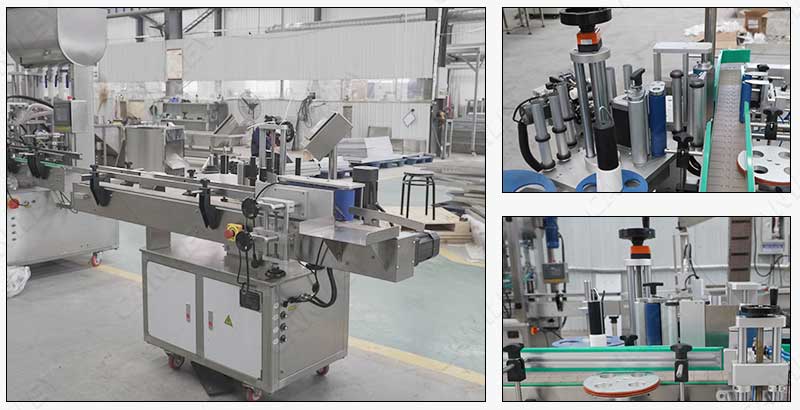 The structure of the entire protein powder filling system can be designed according to the customer's packaging requirements and site requirements. A dust removal system can also be added to ensure a clean and hygienic packaging environment. Contact us for your exclusive solution.