The peanut packaging machine is developed by our engineers according to customer needs, include multihead weigher, packing machine, hoist, supporting platform, finished product conveyor.
1. Multihead Weigher
❤ Application:
Mainly suitable for the automatic weighing of various granular products in the food or non-food industries, such as potato chips, nuts, frozen food, vegetables, seafood, etc.
❤ Peanut Weighing Machine Features:
The maximum speed of small weight products can up to 120 bags/min.
IP65 waterproof, can wash directly with water, saving time and effort.
Modular control system, higher stability, lower maintenance cost.
View production records or downloaded to the computer at any time.
In-depth design of linear feeding tray to prevent leakage of small particles.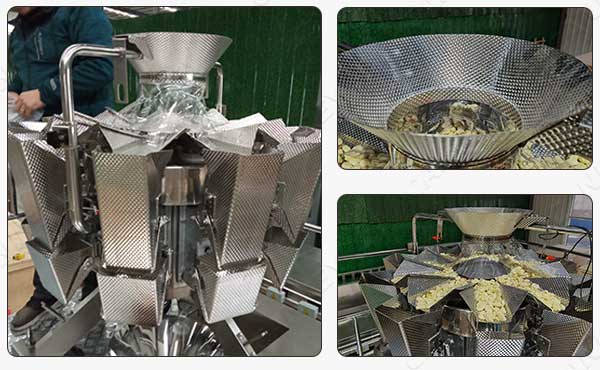 2.Air Fill Packaging Machine
❤ Application:
The machine is mainly for food and non-food industry, can make the pillow bag , gusset bag or quad-sealed bag, etc. With gas filling function, can extend the shelf life.
❤ Peanut Packaging Machine Features:
Siemens PLC control system, the output signal is more stable and accurate, bag making, metering, filling, printing and cutting complete by one machine.
Independent pneumatic and power control circuit box, low noise and more stable.
Servo motor pulls the film with high precision.
In any case, open the door to alarm and stop the machine to ensure safety.
The bag deviation can be adjusted only by controlling the touch screen, and the operation is simple.
Multilingual touch screen, suitable for customers from different countries, English, French, Spanish, Russian, etc.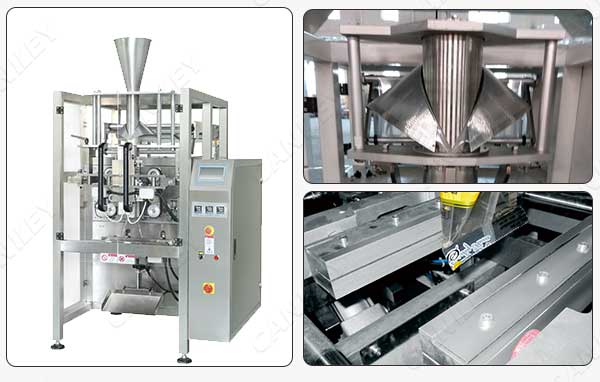 In addition to this type of air fill packaging machine, we also customize and produce other types of peanut packaging machines according to the actual needs of customers(include stand up pouch packing machine, butter filling machine, etc). If none of these packaging machines can meet your needs, please contact us by email info@cankeytech.com or call us 0086-15515573212