Application Range:
The snacks packing machine is suitable for packaging all kinds of puffed and fragile food. Such as puff snacks, cheese puff, pellet, pretzel, nuts, etc.

Nitrogen Packing Machine for Snacks Working Principle:
Pour the material into the vibrating feeder, and then lift to the top of the combination scale to add material;
The computer combination scale completes automatic weighing according to the set weight;
The set weight of the product enters the forming device, and the packaging film is formed and sealed;
The packaging bag enters the metal detection structure, if there is metal, it will give a signal to the selection scale, and then the product will be rejected when it enters;
The metal-free packaging bags enter the sorting scale to check the weight. Overweight or light weight will be excluded to the other side, and qualified products will enter the disc sorting table.
Snack Packing Machine Features:
One-piece weighing and packaging design: Electronic combination weighing and snacks packaging machine are operated in a unified manner, which improves the speed of weighing and packaging.
High precision, small target weighing: Choose the right combination, high precision and high speed.
Simple high-speed operation: microcomputer control, touch screen display, easy operation and maintenance.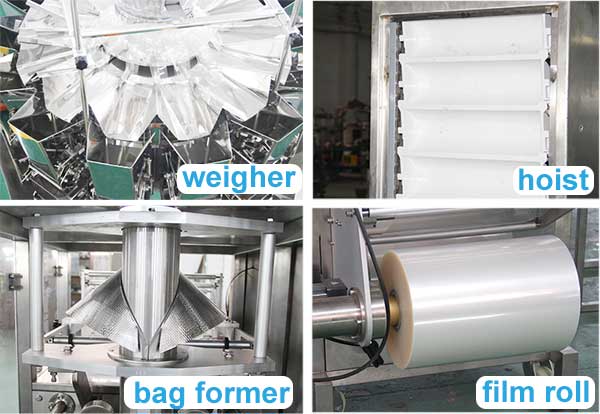 Simple space: The unique one-piece nitrogen packing machine for snacks greatly reduces the height of the machine and saves space.
Precise positioning: Servo-controlled film pulling, accurate film positioning; automatic electric eye tracking, accurate trademark positioning.
Fast return on investment: To a large extent, this snacks packing machine saves raw materials and labor costs.