This automatic powder drink packaging machine is specially designed for instant beverage packaging, such as juice powder, tea powder, instant coffee. Small-dose packaging makes it easier to carry after packaging.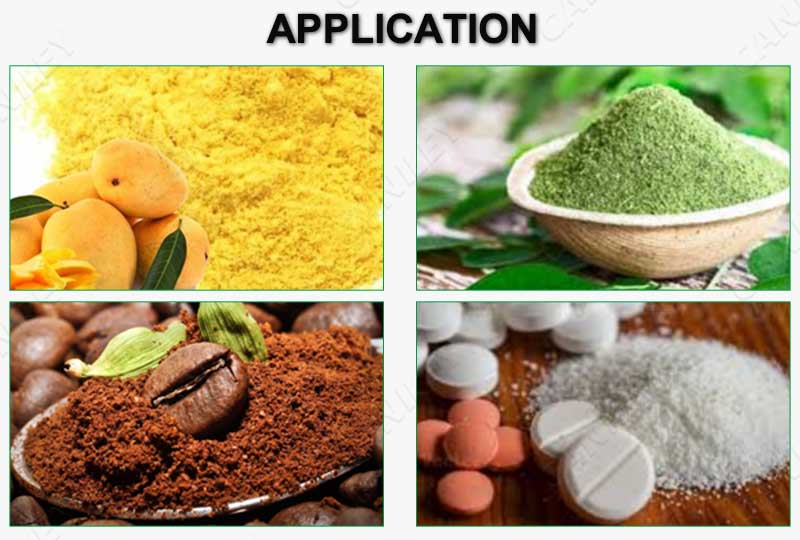 Juice Powder Packing Machine Features:
Replacing the cutter according to user needs to realize in-line disconnection, pattern disconnection, etc. So that the cutting knife is stable and reliable when cutting sachet without jamming, and the operation is simple.
Use a unique embedded seal, an enhanced heat-sealing mechanism, and an intelligent temperature controller. Suitable for all kinds of packaging films, with good performance, low noise, clear sealing lines, and strong sealing performance.
The powder drink packaging machine uses PLC and photoelectric control technology, it can complete the process flow of metering, bag making, filling, sealing, disconnecting, and date printing.
When a fault occurs, the juice powder packing machine can promptly alarm and shut down, effectively reducing the loss of juice powder and packaging materials. At the same time, it can store data by itself to ensure the continuity of production.
It is made of stainless steel and complies with the national GMP standard to ensure that the materials will not be contaminated during the packaging process.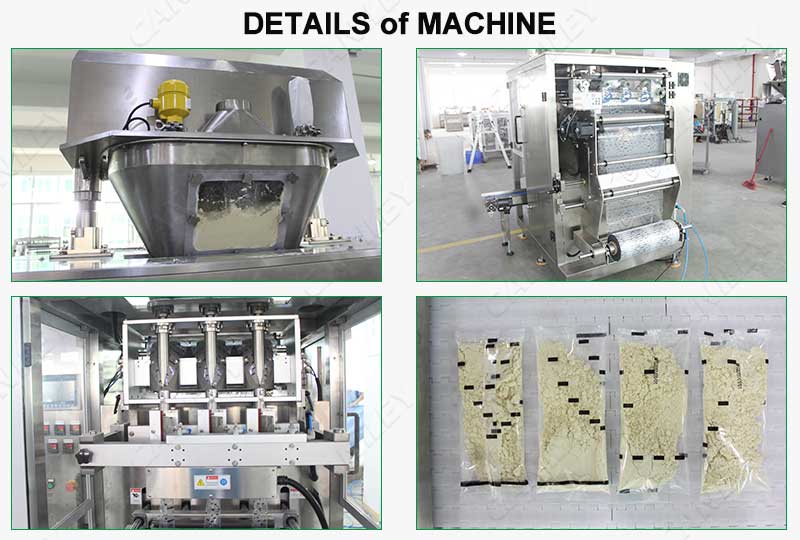 Why Use the Multilane Powder Drink Packaging Machine?
The multi-lane packaging machine can pack 5-8 bags per minute per lane, and greatly improving the production efficiency of workers.
The net weight of each sachet is the same, and the qualified rate is high, which effectively guarantees the quality of the product.
The juice powder packing machine can reduce packaging costs and additional costs caused by manpower.
Reliably guarantee the hygiene and safety of the product.
Powder Drink Packaging Machine Optional Accessories:
Date printer
Fillet cut and easy tear
Punching device
Cut off
Fill with nitrogen
Operation method:
Before starting, check whether the compressed air pressure meets the requirements, and check whether the main components are intact.
Clean the feeding system and metering machine before production to ensure product hygiene.
Turn off the air switch of the main power supply, turn on the power supply, set and check the temperature of each thermostat.
When meeting the requirements, the bag making machine start working, check the quality of heat sealing. When the bag meets the requirements, the formal juice powder packaging production will begin.
During the production process, if there is a problem with the equipment or the quality of the product is unqualified, you should shut down the machine immediately to deal with the problem. It is strictly forbidden to deal with problems during the operation of the machine to prevent safety accidents.
Juice Powder Packing Machine Parameter:
| | |
| --- | --- |
| Model | CKMLPF-800-06P |
| Package material thickness: |  0.04-0.08 mm |
| Bag length range: | 50mm-120mm |
| Bag width range: | 40-100mm |
| Sealing width: | 4-15mm |
| Packing speed: |  20-45 times / Min |
| Gas source: | 0.6-0.8Mpa |
|  Power supply specification: | 220V/380V 50/60HZ |