The design of the cinnamon powder filling machine aims to complete efficient packaging and reduce the waste of cinnamon powder. Can be used to fill free-flowing and non-free-flowing dry powders. Such as milk powder, rice powder, glucose powder, food additives, etc. The packaging ranges from 5g to 5000g.
The cinnamon powder filling machine can be combined with other supporting equipment to form a filling line. In order to complete a series of tasks such as weighing, filling, weighing feedback, and rejecting defective products. Suitable for filling various bottle types.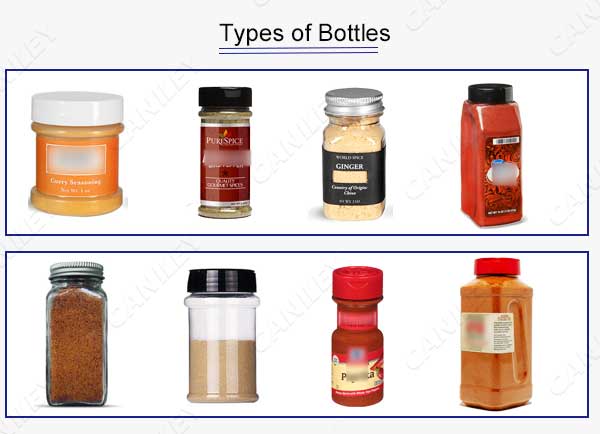 Curry Powder Filling Machine Configuration:
Feeding part: Equipped with a dust removal device, connected to the negative pressure pipeline, which can effectively absorb dust during the filling process and effectively protect the workshop environment.
Touch screen: The curry powder filling machine adopts electronic display touch screen control, PLC intelligent programming and touch screen manual operation control system. The parameter setting method is simple. It also has the function of alarming and displaying faults to monitor the operation of the machine at any time.
Bottle conveyor belt: The conveyor belt is used to place the bottles. The conveyor belt can be customized according to the size of the container. The two sides are equipped with adjustable railings to adjust the gap of the railings.
Screw metering device: The screw method is used for the measurement of curry powder. The screw is controlled by a servo motor with high precision and stable performance. And the hopper is made of 304 stainless steel, which can effectively prevent the curry powder from being contaminated.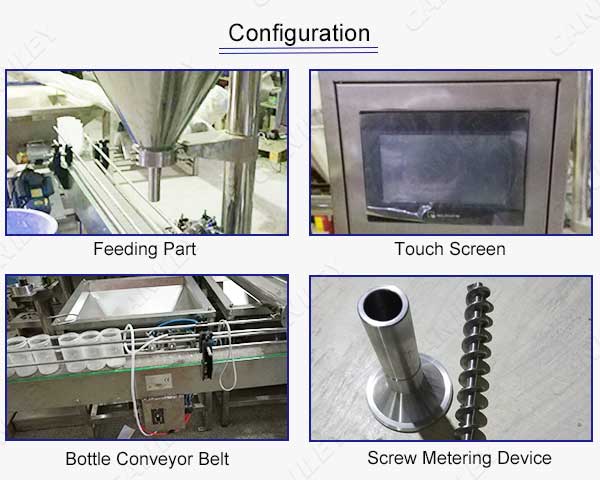 Cinnamon Powder Filling Machine Features:
Made of stainless steel, it is suitable for GMP, food hygiene certification, and anticorrosive chemical product packaging. (Machine material can be customized, such as 316L)
The cinnamon powder filling machine adopts combined or open transparent material box, which can be easily cleaned without tools.
The screw part is matched with a clamp, which is easy to replace and meets the packaging requirements of materials of different densities.
Touch screen, PLC control, stable work, anti-interference, high-precision weighing, convenient operation.
Servo motor drives the screw for filling, with higher measurement accuracy.
10 kinds of product formulas with different working parameters can be stored, which is convenient for next use.