Due to tortilla chips packing machine's fast weighing speed, good dynamic accuracy, and high degree of automation, the chips packing machine with nitrogen is widely used in packaging chips, candy, puffed food, biscuits, frozen vegetables and other food packaging.
☆ High Weighing Accuracy ☆
Ensure weighing accuracy from the following three aspects:
1. Subsampling
In the weighing process of the lays chips packing machine, reading from the data once is the first sampling, and the computer will make the optimal combination after obtaining the data. If the 3 weighing units meet the target weight, the weight data of the materials of the 3 weighing units will be sampled again, which is the second sampling. If the data of the two samples are inconsistent, the computer will re-combined. If the data of the two samples are the same, the computer combination weigher will discharge the material.
2. Auto zero function
Because the residue of some chips will stick to the wall of the weighing hopper during the weighing process, it will affect the accuracy of the next weighing. The computer combination weigher's solution to this problem is: The weighing hopper should generally be opened 4-5 times when releasing materials to reduce the residual material. The packing machine with nitrogen will automatically reset the weight of the weighing hopper, which means that the residue sticking to the weighing hopper is regarded as zero weight, which does not affect the accuracy of the next weighing.
3. Anti-ground vibration
In addition to the weighing sensor, an induction vibration sensor is added to remove the sensed vibration component from the weighing sensor data, so that the tortilla chips packing machine can obtain reliable data.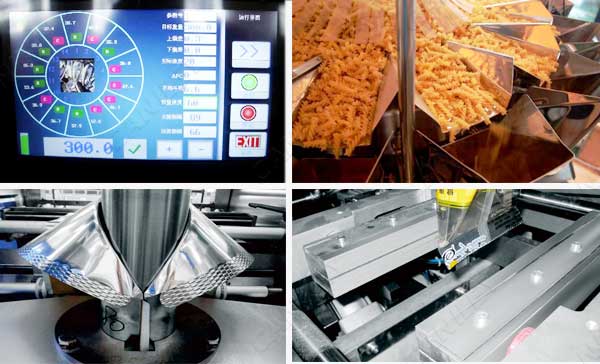 ☆ Fast Weighing Speed ☆
1. Digital signal processing technology
The digital processing is completed by a special computer chip, which ensures that the weight analog signal is converted into a digital signal after fast digital filtering, thereby ensuring that there is time to complete the "secondary data sampling" function.
2. Stepping motor controls the opening and closing of the hopper
Due to the controllability of the stepping motor, the opening and closing speed and amplitude of the weighing hopper can be adjusted, and in small weighing, the opening and closing of the weighing hopper can be adjusted to a smaller value to achieve a higher speed.
Lays Chips Packing Machine Specification:
| | |
| --- | --- |
| Model | CK-LK520 |
| Film width | max 520mm |
| Bag width | 90-250mm |
| Bag length | 80-350mm |
| Packing speed | 10-70bags/min |
| Packing range | 150-2000ml |
| Film thickness | 0.04-0.10mm |
| Power | 3kw/220v 50-60Hz |
| Machine size | 1430*1200*1700mm |
| Machine weight | 650kg |
| Air consumption | 0.4m³/min 0.6mpa |