The perfume box wrapping machine is a device for 3D wrapping of boxes of different specifications with cellophane or BOPP film. This cellophane wrapping machine is widely used in the single box automatic packaging of various box-type items in cigarettes, medicines, condoms, health products, cosmetics and other industries.
Cellophane Wrapping Machine Working Principle:
The box in the perfume carton wrapping machine storage bin is conveyed forward through the entrance conveyor, and at the same time, the servo motor controls the film to cut the film into a length that meets the packaging requirements of the box. The transmission mechanism pushes the perfume box to the feed pusher (in the required form and quantity), the feed pusher continuously rotates at a certain speed. In the process of rotation, it can achieve film wrapping, folding and heat sealing.
The feed pusher sends the perfume box to the exit conveyor, and at the same time, it folds the film at both ends and heat sealing the film. Automatically complete a series of packaging processes such as box feeding, film feeding, sticking tear tape, film exit, film cutting, folding (up and down fold), heat sealing, shaping, and discharging.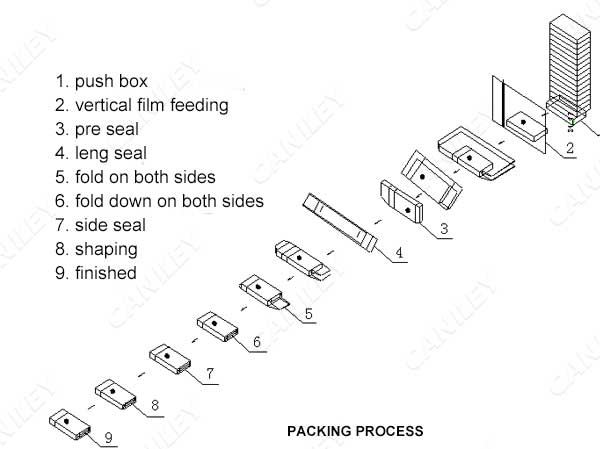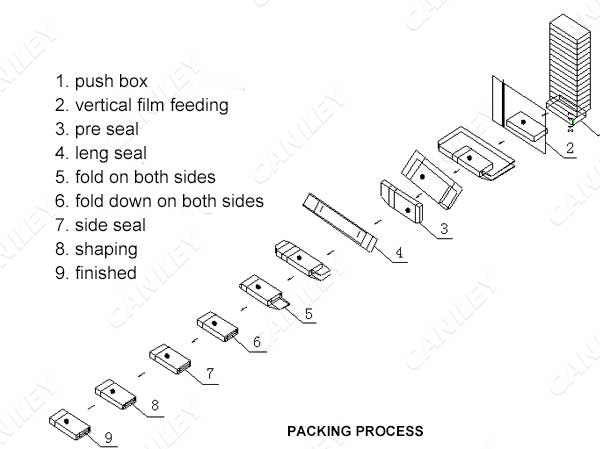 Perfume Box Wrapping Machine Features:
Automatic push box, automatic folding, automatic hot sealing.
Fully sealed packaging: waterproof, moisture-proof, anti-counterfeiting.
Instant sealing, no material stored in heat sealing station: similar to cold packaging, no effect on heat sensitive products of medicines.
Automatically paste anti-counterfeit tear tape: improve product anti-counterfeiting ability.
The packaging speed can be adjusted steplessly. Replace the folded cardboard and a small number of parts to pack different types (size, height, width and width) of box-type packaging.
The cellophane wrapping machine is more user-friendly and intelligent, and it is easier to use, operate, maintain and repair.
Packaging Materials:
BOPP film: The thickness is 0.022~0.03mm.
Tear tape: Various color stickers with width 1.2~3mm.
In Order to Prolong the Service Life of The Machine, Please Pay Attention to:
Arrange special personnel for operation and maintenance.
Always check the oil level in the gearbox, and the oil level should be no less than 2/3 of the height of the box.And the oil in the gearbox should be replaced once a year.
All chain drives, gear drives, cam drives and sheave drives are all lubricated with grease. Add grease once every three months, and check the working conditions of each tensioning sprocket regularly according to the transmission conditions and make adjustments at any time.
The perfume box wrapping machine should be kept clean and beautiful, and the outer cover and surface of the machine should be cleaned regularly with a soft cloth.
If you do not use the machine for a long time, please clean the cutter part.
Cellophane Wrapping Machine Technical Parameters:
| | |
| --- | --- |
| Model | CK-BTB-300A |
| Packaging material | film and gold tear tape |
| Packing speed | 40~80 boxes/min |
| Max.package size | (L)240*(W)120*(H)60mm |
| Power | 220V 50Hz  5kw |
| Machine weight | 500kg |
| Machine dimensions | (L)2000*(W)700*(H)1400mm |