What Is Shrink Packaging?
Shrink wrap is a packaging process, a group of cans are wrapped in shrinkable plastic film, after exposing to hot air, holds the cans firmly together for transport.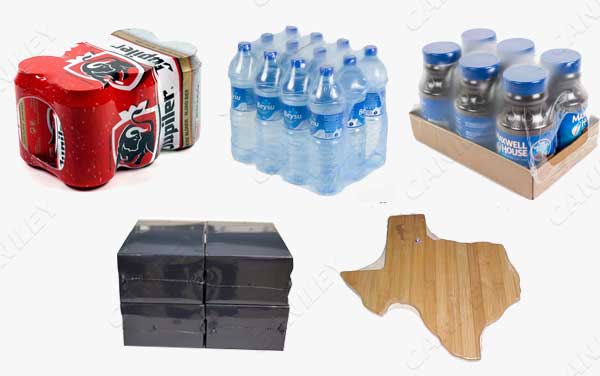 Advantages of Shrink Packaging:
Low cost, waterproof and moisture proof.
Compared with box packaging, the cost is lower.
The product is visible, you can see the beer cans through the film.
Will not damage the tray.
Cans Shrink Wrap Machine Working Flow:
Cans grouping. Divide 4/6/8/9 cans into one group by pneumatic or electric pusher (the quantity is adjusted according to actual demand).
Wrapping. The shrink film is wrapped around the cans to form a bundle.
Shrinking. The cans pass through the heating zone of the shrink tunnel, and the circulating hot air makes film tightly wraps the cans outside, outputs and cools.
Commercial Cans Shrink Wrap Machine Features:
The rapid cooling structure of the sealing ensures higher sealing strength under high-speed production conditions.
The commercial shrink wrap machine adopts PLC program automatic cycle control, stable and reliable performance.
The induction switch controls the film feeding system, which can reliably regulate the film feeding length and reduce losses.
All conveying adopts frequency conversion speed regulation, and the conveying is smooth.
Unique heat shrink tunnel, two sets of centrifugal hot air circulation system, uniform heat balance, tight shrinkage and beautiful appearance.
3 layer heat insulation treatment, good heat preservation performance, fast heating, and energy saving.
What Kinds of Products Can Be Shrink Wrapped?
Most bottles, beer cans, cartons and boxes are ideal for shrink packaging. Many other types of products can also be shrink wrapped. Products with small weight or strange shape can be packaged by shrink wrap machine.
What Kind of Commercial Shrink Wrap Machine we supply?
As a shrink wrap machine manufacturer, we not only provide semi-automatic and automatic wrapping machines, but also provide packaging solutions that can be better connected to the front-end production line
Cans Shrink Wrap Machine Specification:
                  Sealing and Cutting Machine
Model
CK-FX5038
Power
1.6kw,220V/50HZ,
Max Packing Size
450*270*330mm
Packing speed
0—-8 pcs/min
Pressure
5kg/square
Dimension
1020*830*1500mm
Weight
170KG
                 Heat shrinking Machine
Model
CKBS-6040
Heating power
22KW
Max Size of Packing chamber
600*400*1500mm
Dimension
2500*850*1400mm
Weight
200kg