The liquid pouch filling machine is widely used for filling liquid products such as laundry detergent, hand sanitizer, fruit juice, jelly, tomato paste and so on. Can be applied to different types of bags.
Automatic Pouch Filling And Sealing Machine Working Process:
The bag is sent to the machine clip by the way of taking off and sending. The bag-free warning function can reduce the labor intensity of users;
Print production date: ribbon detection, ribbon stop warning, touch screen display to ensure that the premade bag is properly coded;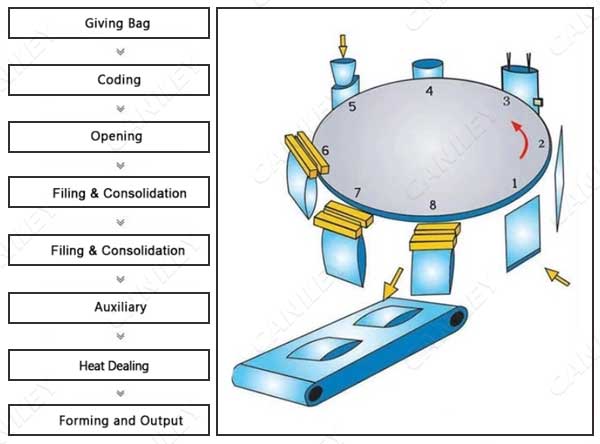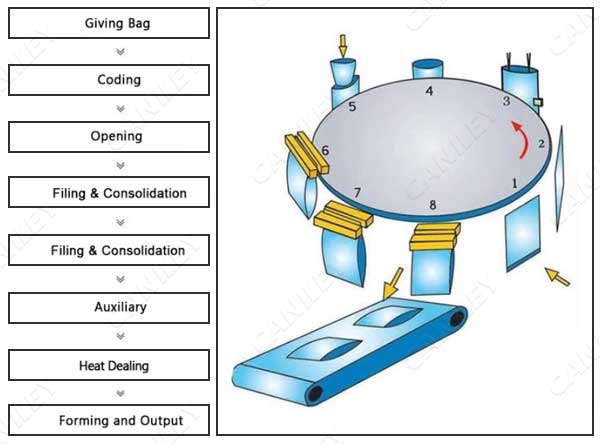 Open the bag: open the bag to detect, If the bag is not opened, it will not feed, to ensure that the material is not lost;
Filling materials: detection, if the material is not filled, then it is not sealed, to ensure that no bags are wasted;
Heat sealing: temperature abnormal warning to ensure the sealing quality;
Output: Ensure a beautiful seal.
Liquid Detergent Pouch Filling Machine Features:
The parts on the liquid pouch filling machine that touch the materials or packaging bags are made of stainless steel or other materials that meet food hygiene requirements to ensure food hygiene and safety.
With the horizontal bag feeding method, the bag storage device can store more packaging bags, and has lower requirements for the quality of the bags, and the rate of bag separation and bag loading is high.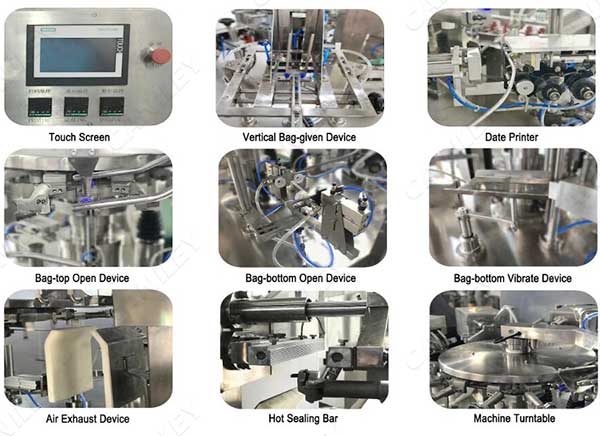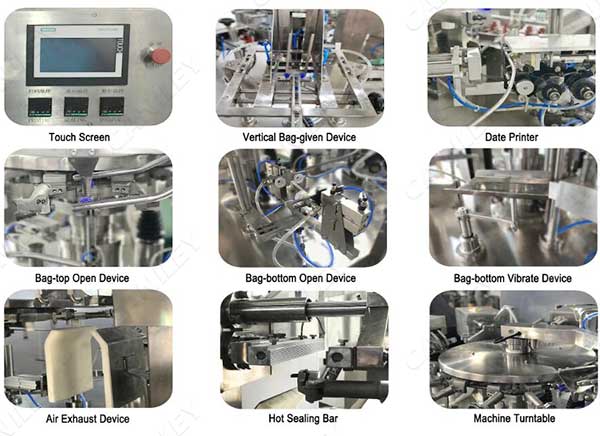 The motor is used to adjust the width of the bag. Press and hold the control button to adjust the width of each group of clips together, which is convenient to operate and saves time.
Automatic detection function, if the bag is not opened or the bag is incomplete, no feeding or heat sealing will be performed, and the bag can be used again without wasting materials and saving production costs.
The loss of packaging materials is low. The automatic pouch filling and sealing machine uses pre-made packaging bags. The packaging bags have perfect pictures and good sealing quality, and then improve the level of goods.
Packaging bags are widely used, and can be used for premade bags made of multi-layer composite film, aluminum foil, single-layer PE, PP and other materials.
The packaging scale is wide, and the liquid pouch filling machine can be suitable for the packaging of liquids, granules, powders and other materials by replacing different gauges.