There are many methods of meat packaging on market, but for different types of meat and different states of meat, different meat packing machines are required.
For frozen chicken nuggets, a multi-head weigher is often used.
The multi-head weigher meat packing machine is mainly composed of storage bins, feeding devices, weighing devices, supporting platforms, packing machine and other components.
High degree of automation: It can automatically complete all the packaging processes of metering, feeding, filling and bag making, date printing, and finished product output.
The measurement is accurate and efficient: It is controlled by a PLC computer control system, and the combination weighing and packaging machine is used to achieve the perfect combination of high precision and high speed. Through computer calculation, the best combination is instantly selected from the abundant weight combinations. Chinese/English/Spanish/Arabic and other multi-language operating systems, clearly showing working status and operating instructions.
Simple, safe and stable operation: Stainless steel material, clean, hygienic and easy to clean, adopting high-precision servo film transport system, the film transport is stable, with the photoelectric automatic positioning and tracking system, the positioning accuracy is high. Intelligent digital temperature control system, stable temperature control, firm sealing.
Strong compatibility and reasonable structure: In addition to packing meat, it is also suitable for weighing and packaging various granular and block materials.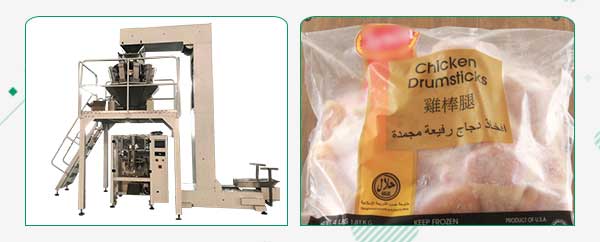 For fresh chicken meat, vacuum packing machines are often used.
If it is a frozen whole chicken, we also recommend vacuum packing. Vacuum packing can extend the shelf life, reduce product loss, and extend the shelf life without chemical preservatives.
Extend shelf life: Studies have shown that vacuum packaging can increase the shelf life of products from 50% to 400%. For many products that enter long-term frozen storage, vacuum packing is also the preferred packing form. Proper vacuum can reduce burns in the freezer compartment.
Reduce meatloss: Extending the shelf life directly affects the loss of inventory products, and reducing product loss will help increase profits.
No need for chemical preservatives: Vacuum packing eliminates the need for chemical preservatives, through proper mixing of oxygen and inert gas, the product can be stored for a longer time without using preservatives.
Improve product display: most vacuum bags are transparent, allowing products in the bags to be displayed on the shelves, which is an economical packaging solution.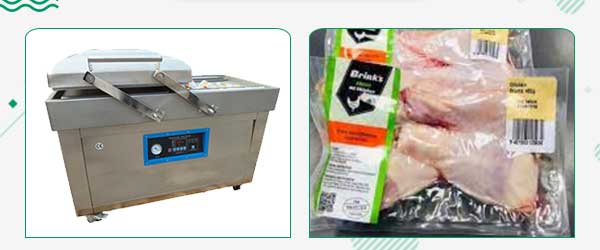 In addition to these two type of chicken meat packing machine, there are other types of packing machines suitable for meat packaging. Contact us for more information.
( Email: info@cankeytech.com )