This powder weighing and filling machine is mainly suitable for quantitative filling of powder, micro powder and fine granular materials. Such as: flour, milk powder, pesticides, veterinary drugs, dyes, chemical powder, food seasonings, coffee powder, etc. The chemical powder packing machine adopts spiral feeding mechanism and digital control system technology, high precision, non-sticky material, and large packaging volume.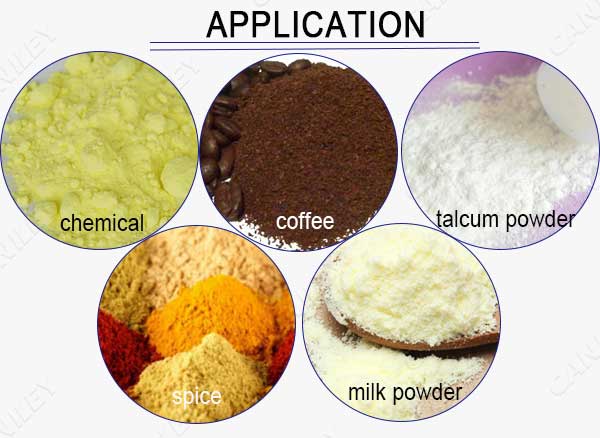 Chemical Powder Packing Machine Features:
High speed: Adopt spiral blanking and light control technology.
High precision: Using stepper motor and electronic weighing technology.
Wide packaging range: The same powder weighing and filling machine is continuously adjustable within 5-5000g through the electronic scale keyboard adjustment and replacement of different specifications of the blanking screw.
The parts in contact with the chemical powder are made of stainless steel, which is easy to clean and prevent cross-contamination.
Configurable feeding device, more convenient for users to use.
The chemical powder packing machine is suitable for filling various packaging containers such as glass bottles, plastic bottles, metal cans, etc.
Powder Weighing and Filling Machine Packaging and Shipping:
Each device is equipped with wearable parts and a tool box to facilitate the replacement and use of wearable parts by customers.
We use double-layer packaging. The internal use of special stretch film packaging, the outer packaging is stapled in a standard wooden box by professional packers, with high stability.
Send the machine to the destination by sea, air, and land. However, considering time and cost, we usually recommend that customers use sea transportation.
After receiving the customer's inquiry, we will clarify all technical details and chemical powder characteristics with the customer. Since each customer's requirements are different, each solution will be tailored to the customer's requirements. So as to better match the chemical powder filling requirements of customers. Looking forward to hearing from you.