How much is a filling machine? For different models of filling machine, the cost are different. The following are the common types.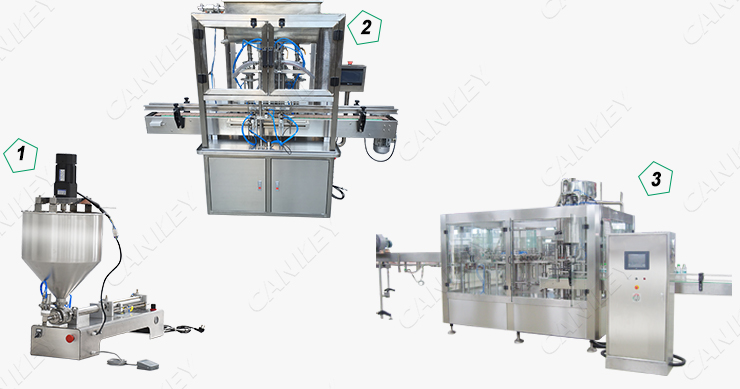 The price of this type is about 1000-2000 USD, the actual price depends on the model selected by the customer. So which model is right for you? The following factors can be considered: 1. Material 2. Filling speed 3. Filling volume
2.Automatic
The price of this type of machine is more expensive than semi-automatic, the price is about 4000-10000USD. It has 2-12 filling heads, faster filling speed, it can be used in conjunction with an automatic capping machine and a labeling machine to effectively improve packaging efficiency.
3 in 1 means bottle washing, filling, labeling in one machine. There are 16/18/24 heads, etc. The price is about 20,000-50000 USD, suitable for large-scale fruit juice beverage factories.
But no matter what type, our machines have reliable quality, accurate measurement, and help customers solve filling problems.
These three types of filling machines are widely used in the filling of various materials in the pharmaceutical, daily chemical, chemical, and food industries. This series of filling machines adopt self-flow/metering pump filling (such as piston type, peristaltic pump, ceramic pump, gear pump, etc.), suitable for bottles of different materials and specifications, and have wide versatility. According to the actual production volume, there are different speeds to choose from, the structure is simple and reasonable, and the operation is convenient.
If you want to get more information about the filling machine price, feel free contact us: [email protected]