What is flor wrapping? Flow wrapping is a horizontal packing process in which product of any shape is wrapped in clear or printed polypropylene film. The end result is a flexible package with a non-lap type seal on the bottom and crimped end seals.
The main tool for flow wrapping is the flow wrapping machine, a good flow wrapping machine get the film tightly around the product to minimize product shift within the package.
What is flow wrapping machine?
It is a horizontal motion process for products to be wrapped in pillow type bags. The process include bag forming, product feeding, fin-seal wrapping, end-sealing cutting. Packing material is hot sealable plastic film or paper film normally.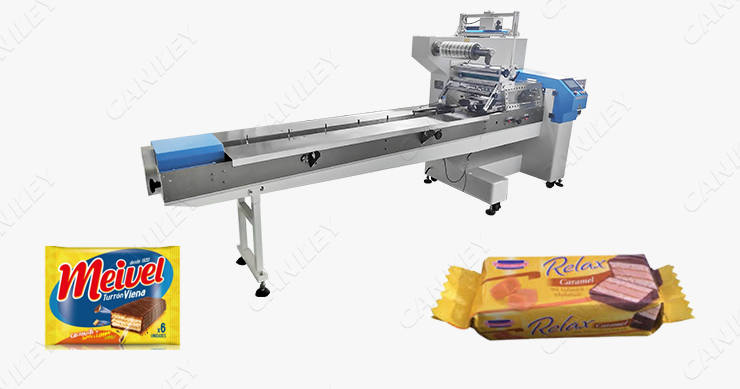 How does a flow wrapping machine work?
Let's take a look for working principles. All flow wrapping machines have an infeed conveyor, a film roller, a fin seal unit and an end seal unit. The infeed conveyor push products into film tube which is formed bag former, then sealed by fin seal unit and end seal unit. The whole process is continuous and fast.
Main features:
Can quick and easy changeover and adjustment, reduces product and film waste during packing and offers low maintenance costs. Servo drives assures precise positioning, smooth acceleration – deceleration. Stainless steel frame construction, user friendly color touch screen, can use customer-specified brands parts.
Your benefits with flow wrapping machines:
Self-regulating control architecture and intelligent sealing technology ensure efficiency and resistance to a wide range of environmental influences.
Compact modular design, enabling ideal integration of system components with upstream and downstream equipment in a production line combination.
Reduce labor costs and obtain greater benefits.
Learn more information, please contact: [email protected]