The automatic baby powder filling machine adopts PLC control, which has the advantages of high precision, fast speed and long life. The filling weight can be adjusted steplessly at any time, and the operation is convenient.
The auger filling powder machine can complete the work of baby powder measuring, filling and so on. It is suitable for packaging powdery materials with easy flow or extremely poor flowability. Such as baby powder, medicinal powder, glucose, powdered beverages, talcum powder, facial mask powder, spices, toner, etc. It can form an automatic powder filling line with a capping machine and labeling machine.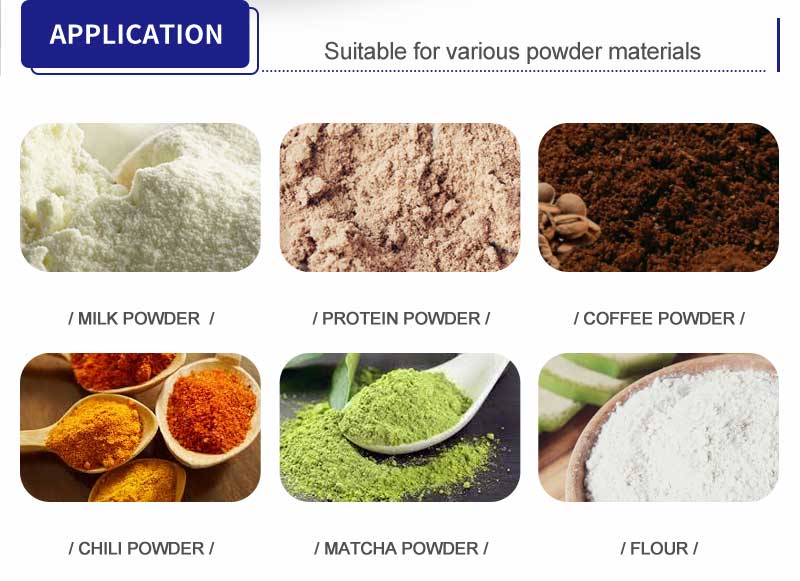 Baby Powder Filling Machine Features:
In line with national GMP standards, through the national food hygiene certification.
Contact with materials is made of 304 stainless steel, which can be used for the packaging of general corrosive chemical products.
PLC-touch screen control system, stable work, strong anti-interference, high weighing accuracy, convenient man-machine interface operation.
The filling auger is driven by a servo motor, which has the advantages of accurate positioning, high precision, fast speed, long life, adjustable speed and good stability.
The stirring part of the baby powder filling machine adopts a maintenance-free geared motor, which has low noise, long service life and lifetime maintenance-free.
The material box is equipped with a dust filter device, and the filling accessories are equipped with a dust removal system to protect the workshop production environment.
The chain conveyor belt conveys the bottle, the screw is distributed and positioned, and the degree of automation is high.
Grouped Equipment:
Combining with different customer needs, the auger filling powder machine can be matched with feeding (screw, vacuum), automatic bottle unscrambler, capping, aluminum foil sealing, gold inspection, re-inspection, labeling, shrink wrapping, boxing, etc.
Below is our custom-made baby powder filling line for Mexican customers, which includes unscrambler, filling machine, and capping machine. If you want to get your customized packaging solution, you can leave us a message.