What is the biscuit packaging machine specification? For different types of biscuit packaging machines, their specifications are different. Here is a more popular model – the 250 Model.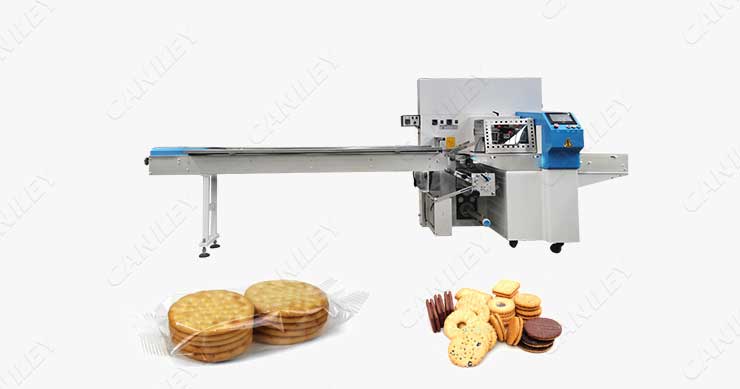 Here are the specifications of this model:
Film width: Max 250mm
Bag width: 30-110mm
Product height : Max 40mm
Film diameter: 320mm
packing speed: 40-230bags/min
Machine size: 3370*670*1450mm
Weight: 800kg
How does this model pack biscuit?
The film roll enters the former through the packaging film driving roller and is formed, and the biscuits are fed into the former by the feeding conveyor, and then are longitudinally sealed and transversely sealed and cut, and then output by the output machine.
What kind of packaging can the machine achieve?
The machine is mainly used to pack biscuits into pillow bags. This is a very simple and popular way of packaging.
What should you pay attention to when packing biscuit?
After the machine is installed in place, please check the bolts and nuts of each part, and there must be no untightening phenomenon.
Before starting the machine, please cover all protective covers and remove tools and other sundries on the machine to avoid damage to the machine.
Before starting the machine for the first time, please turn the large handwheel by hand to make the machine run for a few times, and then power on and start the machine after ensuring that there is no fault.
Operators take care not to get their hair, gloves and clothing caught in the machine.
When the machine is working, the temperature of the vertical seal and the horizontal seal can reach 200 ℃ or even higher. Please do not touch the sealer to avoid being scalded.
If any abnormality occurs during the operation of the machine, please stop the machine immediately for inspection, and contact the manufacturer if necessary.
Check the effectiveness of the emergency stop switch before each operation.
If you want to get more detailed information about the specifications of the biscuit packing machine, you can contact us.