This automatic tea bag packing machine is suitable for the disposable packaging of inner and outer bags of small particles such as green tea, medicinal tea, health care tea, etc.
Packaging Material of Tea Bag Filling and Sealing Machine:
Automatic metering. Using advanced microcomputer control technology, accurate automatic weighing.
Automatic tea bag making. high working efficiency.
Automatic filling/sealing. After filling tea, adopt three-side sealing packaging method, and the sealing is tight.
Automatic cut/count. Auto-complete cut/count.
Automatically print characters. Realize packaging printing code, automatic completion.
Automatic Tea Bag Packing Machine Constitute:
Simple operation area: The large-size touch screen is used to control the packaging process of the machine, and the key parameters such as packaging speed and packaging temperature can be controlled accurately and conveniently.
Linked film reel: The tea bag packing machine uses multi-chain movable film reel is used to coordinate the film pulling process, adapting to more film materials and making film roll smoother.
Air pressure gauge: Observe the air pressure status of the machine at any time, and adjust the pressure when necessary.
Photoelectric eye: fast response speed, so it can obtain high test speed, stable performance and long life.
End sealing and cutting area: Rotate the constant temperature hot air cutter to seal the front and rear sections of the packaged product to avoid curling or loopholes in the sealing position.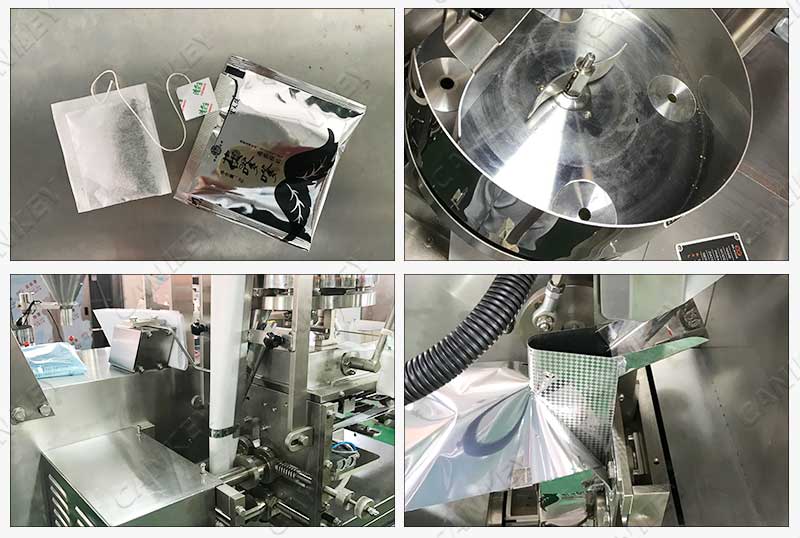 Tea Bag Filling and Sealing Machine Features:
The packing speed is in the range of 50-100 bags/min, and the error is within 0.5mm.
The bag length is set by computer, no need to change gears.
Unique automatic alarm function for setting output and automatic display of packaging speed.
Effectively ensure the quality of the tea bags, and obtain tea bags with consistent specifications according to the required size.
Data:
| | |
| --- | --- |
| Model | CK-YD169 |
| Packing Material | Tea Bag paper, cotton thread, label |
| Sealing type | Three edge-sealing |
| Measuring Range | 1-15g/bag |
| Inner bag Size | Length 50-75mm,Width 50-75mm |
| Outer Bag Size | Length 85-120mm,Width 75-95mm |
| Label Size | Length 25Width 25mm |
| Dimension | 1050*700*1300 |
| Voltage | 220V 50HZ |
| Powder | 3.7KW |
| Weight | 650kg |