What is the flour packing machine price? In order to answer this question more accurately, we will list different types of flour packing machines and show you their prices one by one.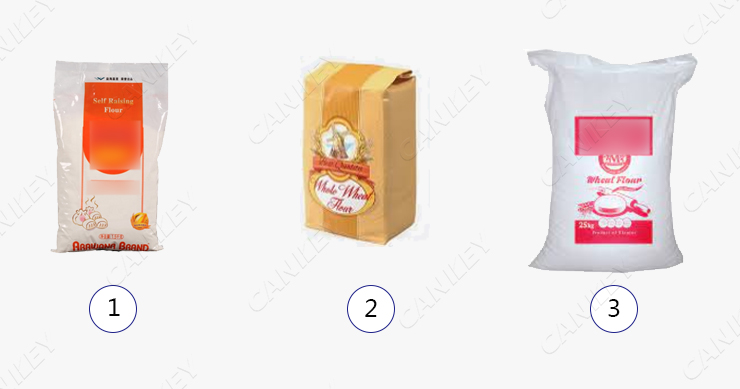 Vertical packing
It is used for packaging 1-2kg of flour, and the packaging material is mostly composite packaging film. The price is about 6000USD -12000USD.
Thick stainless steel material, low noise, can be closed to avoid dust, and it is more convenient to clean.
Automatically rotate and stir materials, and can automatically quantify, fill, and adjust measurement errors.
By folding the collar, a complete back-sealed bag is automatically formed, and the size can be customized and adjusted.
Double-belt film pulling device makes film pulling more smoothly.
2. Paper bag flour packaging
Mostly prefabricated kraft paper bags, the price is about 20000USD-30000UD
Hygienic and clean. Ideal for packing human foodstuffs thanks to no oil bath or lubrication.
Reduced operator time thanks to longer running times.
Nearly maintenance free thanks to no rapidly wearing parts.
Improved internal dust aspiration ducting resulting in a clean machine.
Minimal maintenance required due to integrated servo-drive technology.
3. Semi-automatic filling
Used for 10-25 kg flour packaging. The price is about 3000USD-5000USD.
It adopts high-precision sensor and high-intelligence weighing controller with high measurement accuracy and stable performance.
Automatic correction of blanking difference and automatic tracking of zero point.
Bag holder: High-thickness sanitary 304 stainless steel sheet, with high support strength.
Color touch screen: The operation is intuitive and convenient, and the production situation can be understood more clearly.
Tell us your packing requirements, and we will suggest you a suitable model.