How much does a food packaging machine cost? For different types of food and different packaging methods, different food packaging machines need to be used. So their prices are also different. The following are several common types and their cost.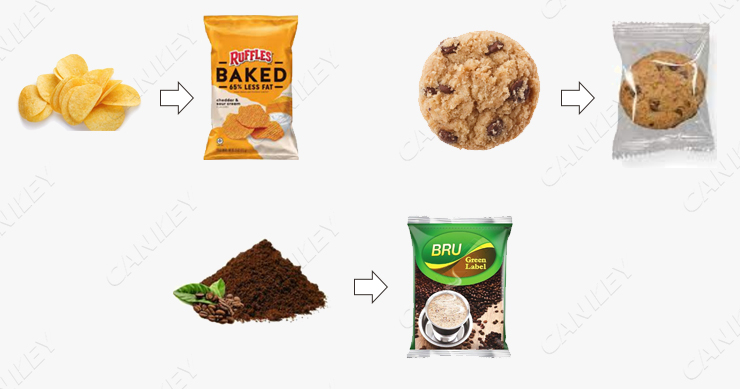 1. Multihead food packaging machine cost 15,000USD-40,000USD
The machine is mainly used for granular food, such as chips, snacks, cereals, nuts, etc.
Using Siemens color touch screen and stable and reliable dual-axis high-precision output PLC control, bag making, metering, filling, sealing, coding, and bag cutting can be completed at one time.
The gas circuit control and the circuit control electric box are separated independently, the noise is low, and the circuit is more stable.
Using double belt servo to pull the film: less resistance to pull the film, the packaging bag is well formed, more beautiful, and the belt is not easy to wear.
The fixed film releasing mechanism makes the installation of packaging film simpler and easier.
2. Horizontal food packaging machine cost 6,000USD-20,000USD
This machine is mainly used for lumpy foods, such as biscuits, instant noodles, bread, sugar, etc.
The high-precision color-code photoelectric tracking system can adapt to a variety of color-codes of different colors, and ensure the accurate sealing and cutting position of the packaged product and the complete printing pattern.
The easy-to-operate forming machine can quickly and easily adjust the size and shape of different packaged products to improve production efficiency.
Built-in heat pipe sealer to increase the speed and enhance the reliability of the sealing and sealing. Avoid scalding packaging materials and reduce the loss rate of packaging materials.
3. Powder food packaging machine cost 4,000USD-20,000USD
Used in flour, coffee powder, fruit powder, chili powder and other powdered foods.
The machine can automatically complete the following tasks: material lifting-screw measurement-coding-bag making-filling-sealing-counting-finished product output.
PLC servo and pneumatic control system, large touch screen constitute the core of drive control.
High degree of reliability and intelligence, and equipped with safety protection.
If you want to know the cost of a specific model, you can leave us a message.