Gummy bear sold in the market come in a variety of packaging types, some in bottles and some in bags. Different packaging methods require different equipment to complete the packaging process. Each gummy manufacturer needs to choose the appropriate gummy packaging machine according to the actual production needs.
1. Bottle Gummy Bear Filling Machine
---
The gummy bear filling machine is composed of Z-type elevator, multi-head weigher and filling part, automatically complete the work of gummy conveying, weighing, filling, capping, date printing, etc. High weighing accuracy and high efficiency. The precision is ±0.1-1g, and the speed is about 20-45jar/min. It is a new type of gummy packaging.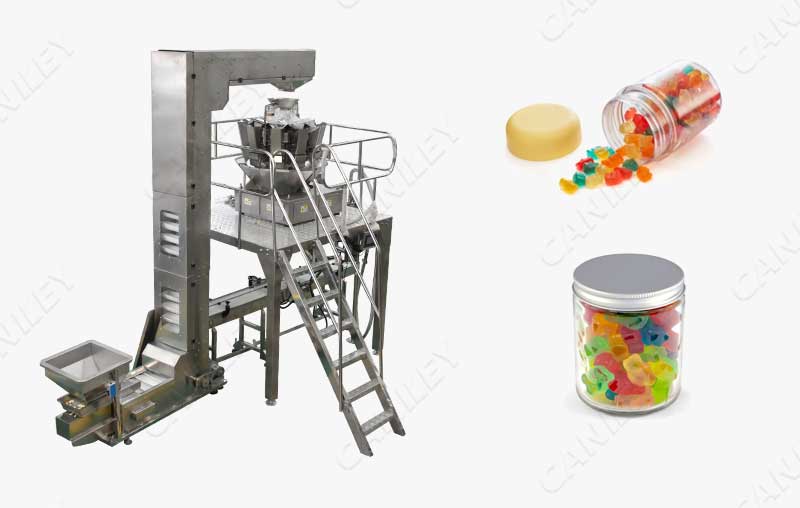 2.Stand Up Pouch Gummy Packaging Machine
---
This machine is used for filling gummy into various stand-up pouches. The premade pouches are used, including zipper bags, ironing bags, special-shaped bags, etc.
Easy to operate: PLC touch screen control, man-machine interface operating system, intuitive and convenient operation.
Easy to adjust: fully automatic. Just input the required parameters from the human-machine interface, and each part of the packaging machine can be adjusted to the part of the required instruction.
High degree of automation: unmanned in the process of weighing and packaging. Fault automatic alarm.
The perfect prevention system can intelligently detect whether the bag is opened and whether the bag is complete. If it is not suitable for feeding, it will not be filled or heat-sealed. No waste of bags and gummies, saving costs.
The gummy bear packaging machine meets the hygienic standards of food processing machinery. The parts in contact with the soft candy are processed with 304 stainless steel or other materials that meet the food hygiene requirements to ensure the hygiene and safety of food and comply with GMP standards.
Use premade pouch, high sealing quality, improve the quality of finished products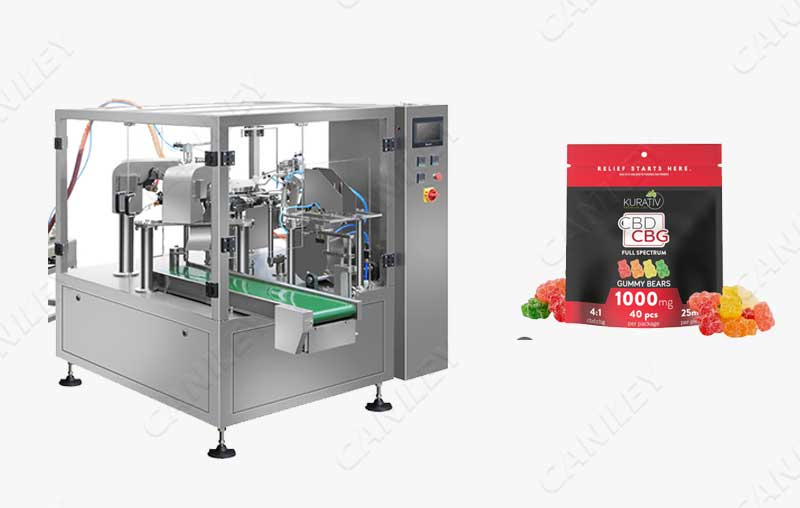 3.Pillow Bag Gummy Packaging Machine
---
The machine is similar to the premade pouch, and both use multi-head scales for weighing. The difference is that this machine uses a vertical packaging machine with bag making function, and the finished product is a pillow bag.
The gummy bear packaging machine completes bag making, measuring, filling, sealing, coding, cutting and counting at one time.
Adopt international famous brand PLC, reliable performance and durable.
The film is pulled by the synchronous wheel of the servo motor, the resistance of the film is small, the bag is beautiful; the belt is not easy to wear.
The upper clamping and lower supporting devices are adopted to effectively prevent bag breakage.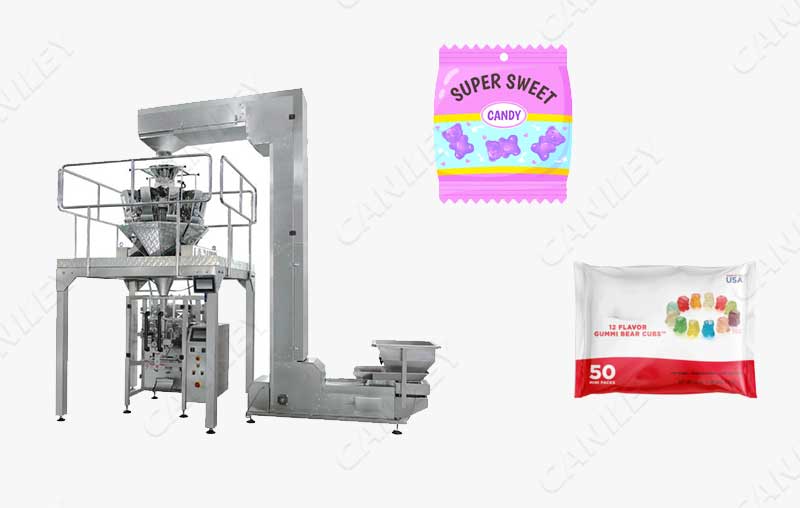 If you want to get more gummies packaging solutions, contact us.