There are different packaging methods for milk powder on the market, and different milk powder manufacturers also use different packaging methods, so how do you package milk powder?
When a customer asks us, we usually introduce two packaging methods to the customer: bagging and canning.
These are two very common types, but according to the packaging requirements of different customers, corresponding changes and upgrades will be made to meet the packaging requirements of customers.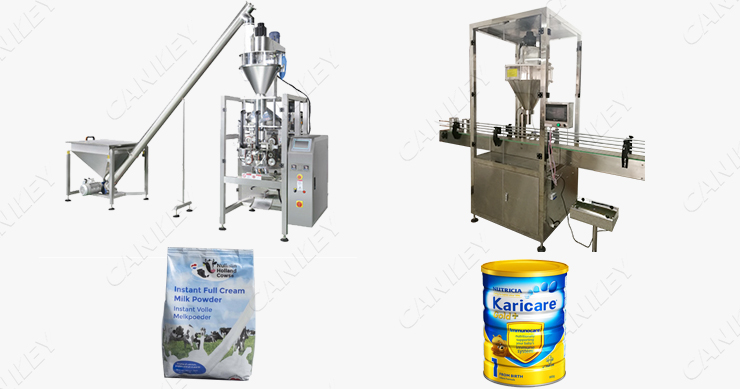 1. Bagging
An automatic milk powder packaging machine is used to complete the packaging process. Screw type quantitative filling, simple structure, no weighing device, low cost and high filling efficiency. The weight of the powder is controlled by controlling the number of rotations or time of the screw.
Servo drive system with high precision and stable performance.
Stainless steel open type material box is easy to clean.
Adopt intelligent temperature control, accurate temperature control, to ensure beautiful and smooth sealing.
Adopt PLC double-pull or single-pull film structure film feeding system, and adopt motor automatic correction device for sealing and cutting position.
The large display touch screen constitutes the core of the drive control, which maximizes the control accuracy, reliability and intelligence of the whole machine.
The perfect automatic alarm protection function minimizes the loss and helps to troubleshoot in time.
The packaging styles are diversified, such as back sealing, gusset, continuous bag, punching, etc.
2. Canning
It also uses the screw-type quantitative filling method, but does not have the bag-making function, and directly fills the milk powder into the can.
The machine automatically completes the work of can feeding, metering, filling, weighing, feedback, and waste discharge. This machine uses spiral feeding to ensure high packaging accuracy. For packaging environments with large dust, we will configure an industrial vacuum cleaner for you. The machine is made of stainless steel, and the appearance design is practical and beautiful. The main components are all well-known brands, so the speed is high and the precision is high. And it can be customized for you according to your packaging requirements.
How do you want to pack milk powder? Tell us, then we will suggest you a suitable model.