How do you wrap a tea box with cellophane? Some companies use manual work, and some companies use professional tea box wrapping machines. However, the degree of automation of the machine is higher, the wrapping effect is better, and it can better meet the needs of enterprise mass production.
How do you wrap a tea box with cellophane by machine?
The packaging film is cut into a length that meets the packaging requirements by a cutter. The tea box is transported by a conveyor, pushed by a cylinder, and wrapped, folded, and instantly heat-sealed to complete the wrapping of the tea box.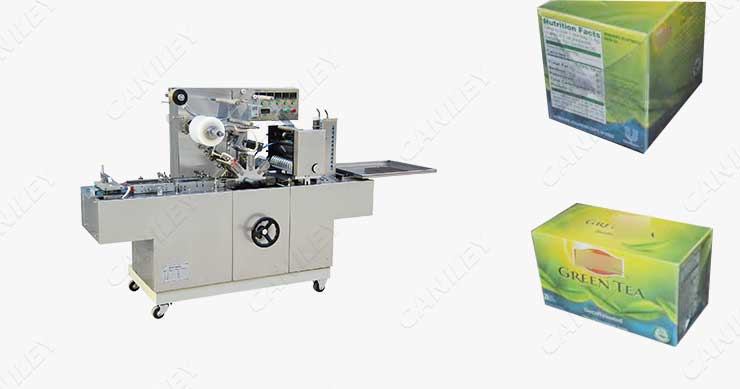 What should you pay attention to when using the machine to wrap the tea box?
The machine should be placed horizontally on the indoor floor, with a 10mm thick rubber sheet of the same shape under the foot to avoid damage to the floor or displacement due to long-term use. After the fuselage is installed, continue to install related accessories.
Before use, please read the manual carefully to prevent damage to the machine parts due to wrong operation. And arrange full-time personnel to operate and regular maintenance.
Put butter into the pendulum cam oil box before starting the machine; for safe production, connect the ground wire at the position specified on the label.
The machine should be kept tidy and beautiful, and the outer cover should be wiped with a soft cloth moistened with water regularly. If you don't use it for a long time, please clean the cutter part with xylene or butanol.
When the machine is found to be out of sync, leading or lagging, it should be shut down immediately for inspection to avoid damage to other parts.
After setting the heat sealing temperature, perform a test first. If the temperature is too low, the seal will not be firm; If the temperature is too high, it will affect the packaging effect.
This machine makes the wrapping of tea boxes simple and fast, helping companies save labor, improve packaging efficiency, and increase product added value. If you want to know how to wrap the tea box in detail, please ask us for a video.